In our first
Pre-CES article
from Taiwan we mentioned OCZ Technology's upcoming product plans for early 2007 that include NVIDIA 8800 series graphics cards, affordable gaming mice, new cooling products, and a partnership with ASUS and Shuttle to build gaming specific kits that consist of motherboards, memory, custom SFF cases, and probably power supplies. Besides the product announcements OCZ Technology also hosted their first APAC Summit.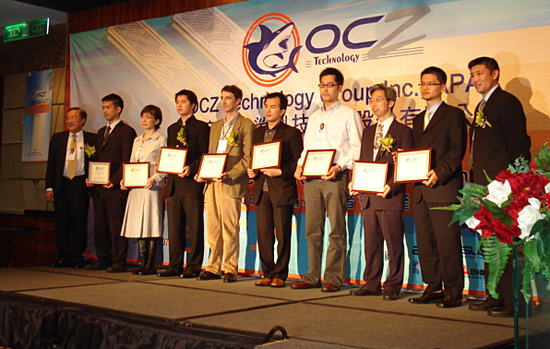 The purpose of the OCZ Summit 2006 was to bring together several different partners in the PC Industry to discuss current trends, showcase upcoming products, and demonstrate overclocking techniques utilizing today's latest hardware. The participants included abit, Albatron, ASUS, Biostar, DFI, Gigabyte, Shuttle, and SIS. Each of the participants presented their take on the current industry, displayed a few of their latest products, and openly spoke at length with the media members about their product's strengths and weaknesses in an honest manner. These discussions were lively at times and we have to admit some of the comments surprised us as we were expecting a full tilt public relations spiel from the collective group. Instead, we were mainly treated with engineering lingo along with a few technical demonstrations. Being the geeks we are, the technical demonstrations were the most exciting although we wish there would have been more of them.
What did we learn? Unfortunately, some of the more exciting items are under NDA until CES but we did pick up a few tidbits here and there. It appears the AMD/ATI R600 graphics cards are still on schedule for an early Q1 2007 launch and should provide some very serious competition to the GeForce 8800 series. However, all of the expected benefits and performance improvements of this release will also bring some serious power requirements. We heard power consumption numbers hovering around 430~450W for the high-end CrossFire setup while under full load. Those are power requirements just for the cards according to our sources who said the first silicon spins actually consumed even more power. What the final numbers will be is anyone's guess but be prepared to start looking at 800W+ power supplies in the near future if you want to run extreme performance GPU configurations.
Most of the manufacturers are very upbeat about the upcoming AMD 690G (RS690) chipset for the AM2 platform. This will be the first true competitor from AMD in response to the NVIDIA 6150/430 combination. This chipset features an enhanced Radeon X700 graphics core that will be renamed the Radeon X1250. It features full DX9 support
(we're still trying to determine whether Shader Model 3.0 is supported)
along with the AVIVO video engine for hardware accelerated H.264 and VC1 video playback on Blu-ray or HD-DVD drives. Power consumption with the accompanying SB600 is said to be very low with the chipset possibly being used in upcoming mini-ITX boards.
We were also informed that the upcoming enthusiast level Intel P965 motherboards from ASUS and Gigabyte among others should easily reach 550FSB levels with 500FSB being the minimum level of FSB overclocking capability. The manufacturers are very comfortable with the chipset now and the next wave of boards should show additional maturity in their designs. Of course, this comes right before the launch of BearLake in the spring so if you are currently using Intel be prepared for more growing pains with this new release.
Speaking of Intel, all of the manufacturers were excited about the upcoming E4000 series of processors as it will bring the Core 2 Duo technology further downstream in the market. This will open up opportunities for utilizing Intel chipsets such as the 946PL in the lower-end markets where VIA and SIS are having success. Also, we were told that motherboard requirements for the Quad Core series of processors have been clarified and to some degree "tightened" up by new Intel specifications. This is another reason why generation two P965 and generation three 975X boards will be introduced shortly. Finally, we expect a new set of Intel video drivers that should greatly enhance the performance of the X3000 graphics core in the G965 motherboards within the next thirty days. While we have had G965 motherboards for the past few weeks, we have delayed our reviews waiting on this driver set and are hoping it comes out quickly and delivers the promised performance expectations.