Compro
Compro Technology
has been in business since 1988 and has been providing interesting PC based graphics and multimedia products based on the latest technologies in both the OEM and Retail markets. Their retail products are marketed under the VideoMate name and can be found at leading e-tailors. We recently received several of their products for review with the Compro VideoMate S350 satellite TV tuner card and
VideoMate H900
TV Tuner card being of notable interest to us.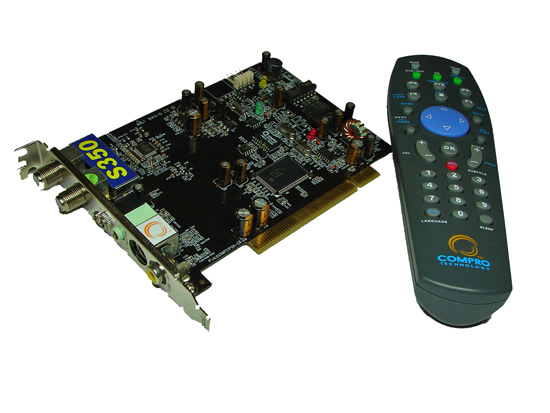 The
VideoMate S350
is a digital satellite TV tuner card based upon DVB-S standards. The card utilizes the Philips 9-bit ADC chip that provides full SDTV and up to 1080i HDTV digital TV watching, DiSEqC 1.2, Transport Stream, and MPEG-2 digital TV recording when utilizing free-to-air DVB-S TV signals. Compro has included their Picture Purifying Technology that improves both SDTV and HDTV reception on your PC. The unit also features Compro's Power Up Technology that can automatically boot up your system from the Windows Shut Down (ACPI S5), Stand by (ACPI S3), or Hibernation (ACPI S4) modes, record your favorite shows, and will then automatically shutdown your system when recording is completed.
The S350 comes with a 37-key remote control unit and is bundled with ComproDTV 2, ComproDVD 2, and Ulead PhotoExplorer 8.5 SE software. The S350 will support 3rd party satellite TV PVR software as well. The ComproDTV 2 software supports timeshifting, channel surfing, still frame capture, digital EPG, subtitle and Teletext, advanced picture in/out picture to watch live TV or playback video files at the same time, and support for up to four digital channel windows in PIP mode. The VideoMate S350 is also a video capture card that can capture analog video (NTSC/PAL) from S-Video or Composite sources and can record in MPEG-1/2/4 formats.
In our initial tests we had a few minor issues with the first release of the ComproDTV 2 software that centered on digital channel switching times, but this has been fully addressed in the latest release. The clarity of both SDTV and HDTV signals has been impressive along with the ability to watch digital TV shows in the lab on our standard test bed (not that we ever do that). The software also has the capability to set up your main TV channel in wallpaper mode on the desktop while still providing picture-in-picture capability for up to three other windows. While we are still testing this card, the technology works very well provided you have the required digital dish and LNB for capturing the DVB-S signals. The included software is now mature and has some impressive features. Although this product is designed for a small and highly specialized audience we have to say we really like it so far.
BlueGears
BlueGears
has been providing computer and home entertainment audio solutions into the OEM/ODM markets since 2000. They recently started focusing on providing retail products under the BlueGears brand name. We will be reviewing their recently released b-Enspirer sound card in the near future but would like to provide some first impressions today.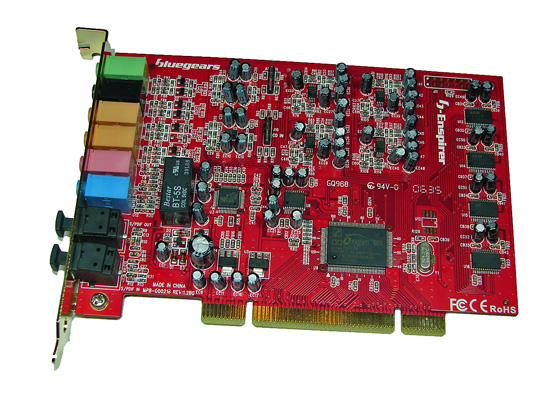 The b-Enspirer is powered by the C-Media
Oxygen HD CMI8788
audio processor that features 8-channel support, 24bit/192kHz capability, and a 110dB signal-to-noise ratio. The package comes with an installation CD, TOSLink Fiber-Optic cable, and owner's manual. The card itself is very compact and has six RCA jacks and two Optical S/PDIF (in/out) connectors on the bracket.
The basic features of the card include:
DTS Interactive - a real-time 5.1 channel encoder that takes 2 or more audio channels and encodes them into a DTS bit stream.
DTS NeoPC - an up-mix matrix that turns any 2 channel audio into 7.1 channel surround sound.
Dolby Digital Live (AC-3) - real time 5.1 channel encoding.
Dolby Pro-Logic IIx - surround processor; converts stereo audio into 7.1 channel surround sound.
Dolby Headphone - converts 5.1 surround or 3D gaming audio for use over stereo headphones.
Dolby Virtual Speaker - creates virtual surround sound from a generic two-speaker configuration
C-Media FlexBass - configurable LFE channel crossover frequency (from 50 to 250Hz)
C-Media Magic Voice - provides the ability to disguise voices in online chatting (Ed: Unfortunately, it can't get rid of Gary's Texas twang....)
C-Media Xear3D - 7.1 Virtual Speaker Shifter technology
Supports EAX 1.0 & 2.0, A3D 1.0, and DirectSound.
The b-Enspirer is targeted to the home theater crowd and in our initial testing it excels in this area. In fact, this card has replaced our Creative X-Fi in our upcoming HTPC article. The gaming aspects of the card are very good and exceed the current on-board sound solutions but the card has limited EAX support. The CPU utilization rates were excellent in our game tests but frame rate losses in titles like Battlefield 2 were similar to the on-board solutions with FPS reductions up to 16% in some cases. While Realtek has struggled with their EAX 2 implementation as of late we did not find the same issues with the latest driver set in the vast majority of games we have tested. However, in BF2 we found turning off EAX resulted in the best audio performance and quality as the EAX implementation in this game (and BF2142) is still not as good as the ADI1988B audio codec and far under the Creative X-Fi series of cards.
Our feelings remain the same: if your PC is dedicated to gaming then the Creative X-Fi is still your best choice. The b-Enspirer offers an amazing number of features for the $109 price tag and is best suited for those who place a premium on HTPC features or audio quality in music or video titles instead of gaming. We are still completing testing with the new driver set but feel at this time that if you are looking for an all-around audio solution for your PC then this card deserves a serious look.
Final Remarks
This concludes our second Tech View 2006 article, and we will take a look at some interesting memory technologies and a whole host of motherboards in our final article for this series.