In our
first article
we took a look at some of the upcoming reviews for the storage sector and today we take a quick glance at some interesting multimedia products. We will close out our series with a long list of motherboards and memory items. Our visits with various manufacturers yielded some interesting information as most expect the arrival of Vista to be a boon for memory and multimedia centric products. We completely understand the giddiness of the memory manufacturers as Vista will need at least 1GB of memory to operate decently, and 2GB will be recommended. We will go over this DRAM requirement and additional memory technologies in our next series but today's emphasis is on multimedia products.
Most of the multimedia product suppliers are gearing up for next year with new product designs and functionality improvements. They expect to see a heightened awareness or interest of the average personal computer user in using the PC for media centric applications. In essence, with most versions of Vista including native Windows Media Center capabilities that have been greatly improved over MCE 2005, suppliers are hoping for the PC to finally become a mainstream digital content appliance in the living room.
While we think this is still a ways off or might morph into something different, the mere fact that you will no longer need to purchase a separate operating system for Media Center functionality should help move the PC platform in this direction, and with CableCARD support arriving in Vista we think the market for HTPC systems and equipment will enjoy steady growth over the coming months. As this market grows we expect to see a convergence in the technologies utilized in your typical set top box and the PC that will result in a true media center hub for the home. We will delve into this more in our upcoming HTPC articles but for now lets take a look at some interesting products we have in the labs today with an eye towards products planned for early next year.
Multimedia Products:

Diamond Multimedia
Diamond Multimedia
has been around for over two decades now and specializes in video graphics, computer audio, and communication devices for both the home and business office user.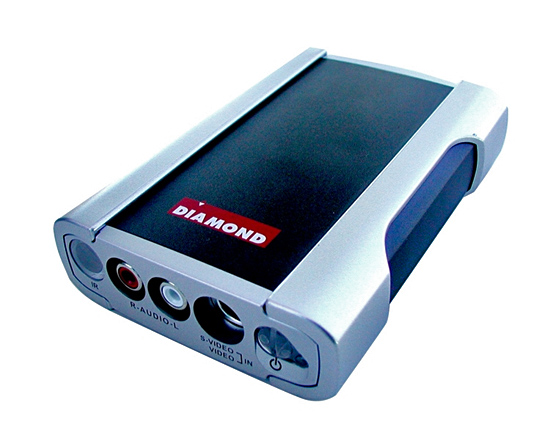 The Diamond XtremeTV PVR660 USB 2.0 is a portable Personal Video Recorder (PVR) TV tuner with an MPEG-2 hardware encoder. The unit also features an FM radio tuner. The PVR660 comes bundled with USB, S-Video, RCA, and FM antenna cables along with a credit card size remote control unit. Diamond Multimedia also includes an excellent software package that features ArcSoft's TotalMedia that does a very good job of impersonating Windows MCE 2005, at least to a certain degree. This is a benefit for those who have Windows 2000 or XP as their base operating system. We tried the unit with MCE 2005 as well and it worked flawlessly. The software package also includes Orb and muvee.
In similar fashion to Windows MCE 2005, ArcSoft
TotalMedia
is a single program that provides TV, video recording, photo editing, and media conversion tasks within a simple user interface. You can watch and record TV shows, edit photos or video, listen to music, rip CDs to MP3 files, and export or import your files to various portable devices. Using the TitanTV electronic program guide is as easy as entering your zip code and selecting your service provider.
The unit is enclosed in a compact portable housing and features a USB 2.0 interface. The front panel features the RCA audio, S-Video, and composite-video inputs along with an illuminated power switch. The back panel features inputs for a coaxial cable and FM radio connections. The unit has two USB 2.0 ports with one for connecting the unit to your PC and the other for the remote control interface. A DC power input is included for those using the PVR660 with a non-powered USB 2.0 port. The unit is Auto Compatible with NTSC, PAL, and SECAM TV Systems which means you can pretty much travel the world with it.
We found the unit offered very good performance during testing, but the picture quality was not as good as our AMD/ATI TV Wonder 550 or Hauppauge WinTV-PVR-150. However, the differences were not as recognizable on screens less than 30" in size and considering it is using an analog interface, the artifacts and motion blur that we encountered at times was expected and present to some degree on virtually all PCI based analog tuner cards. The huge bonus factor for this unit is the fact that is portable, contains an excellent software package, and is auto compatible with all the major TV broadcast standards. The current price for this package is around $119 and until the CableCARD products become mainstream we highly recommend this unit for those who need portability or an extra TV tuner in the house.