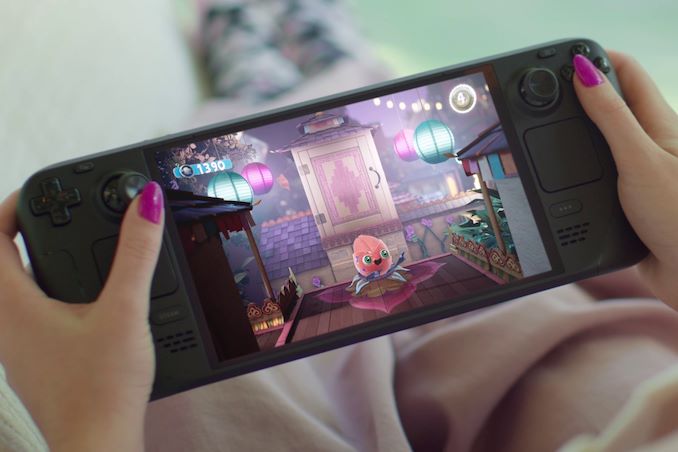 In a quite unexpected turn of events, Valve has introduced a revamped version of its Steam Deck console that got a larger OLED display, a more efficient system-on-chip, a higher-performance memory subsystem, a 1 TB storage option, faster Wi-Fi 6E, and higher-capacity battery. While performance target of the portable gaming device remained the same, the new unit might just be faster than the original one due to faster memory. Meanwhile, the cheapest 256GB version of the console, which retained an LCD screen, now costs $399.
The main difference between the new Steam Deck OLED and the original Steam Deck is the larger 7.4-inch OLED display. The new screen retains a 1280x720 resolution, but it has a 600 nits typical brightness (a major improvement) and also supports HDR with a maximum zonal luminosity of 1000 nits, according to Tom's Hardware. The new monitor can also cover 101.8% of the DCI-P3 color gamut, up from 48.5% in case of the original Steam Deck, our colleagues found out. Despite the larger display, the console retained dimensions of the original one, but got 29 grams lighter since OLEDs do not need a backlighting module and a display driver with all the appropriate circuitry.

Another major change from the original one is that Steam Deck OLED uses AMD's new semi-custom SoC with four Zen 2 x86 cores and an RDNA 2-based GPU with 512 stream processors that is now made on TSMC's N6 process technology. Usage of N6 made the SoC a little cheaper to produce and allowed to retain the original 4W – 15W power envelope without the need to vary GPU clock from 1.0 GHz to 1.60 GHz, which may have a mild positive effect on performance in certain games.
An interesting detail about the new unit is that it uses a 16 GB LPDDR5-6400 memory subsystem with a 102.4 GB/s of peak bandwidth, up from 88 GB/s bandwidth in case of the original one. We can only wonder whether a 16% memory bandwidth boost will significantly affect gaming performance, but we feel it could bring a boost in certain bandwidth-hungry scenarios. Alternatively, faster memory may be just a bit more power efficient.
Speaking of power, it should be noted that the Steam Deck OLED also comes with a 50 Wh battery, up from a 40 Wh battery in the original one, so expect the new one to have a longer battery life. Meanwhile, the new console comes with a longer 2.5-meter power cord.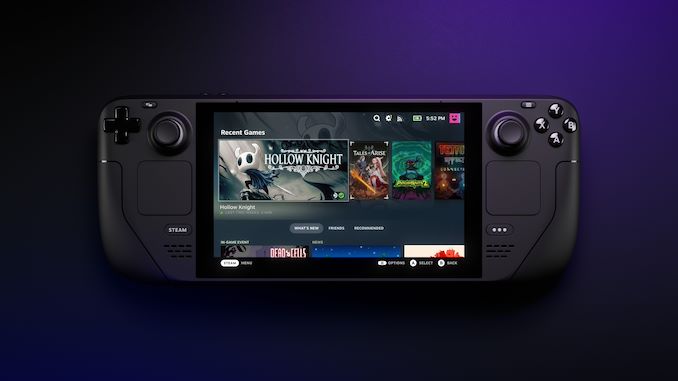 Yet another notable improvement of the Steam Deck OLED is 1 TB storage subsystem (and the M.2-2230 drive can still be replaced with something different) on the range-topping model. Meanwhile, to download games faster, Steam Deck OLED comes with a Wi-Fi 6E adapter, up from Wi-Fi 5 on the original model.
Valve launches its Steam Deck OLED in time for the holiday shopping system and in addition to make the product more attractive overall, it also makes the platform more accessible. The older 64 GB eMMC model with an LCD screen will be available for $349 while supplies last, whereas the 256 GB LCD version will cost $399 from now on (down from $529). The new Steam Deck OLED 512 GB is priced at $449, while the Steam Deck OLED 1 TB carries a $649 MSRP.
Source: Valve