Game Performance Comparison
Real-world benchmarks - specifically gaming benchmarks - provide the most useful measure of memory performance if you keep in mind what they represent. Memory is just one small part of overall gaming performance, and the AnandTech benchmarks keep everything the same except memory speed. Even the CPU speed is kept constant (except for the overclocking test). As a result performance improvements in FPS are very small because the only factor influencing the test results is memory speed. Many factors affect system performance, and memory speed is just one of those factors.
Since the results for high-end memory were so close at all tested speeds, the scale range was reduced to better show the small differences in these memory benchmark results. Please keep this in mind when viewing the charts, since a normal zero scale would make performance differences appear much smaller than these expanded scale charts. Maximum values for other memories at each speed are included in each chart for reference.
The AT memory test suite uses Far Cry, Half-Life 2 and Quake 4 for memory testing because they are sensitive to memory performance.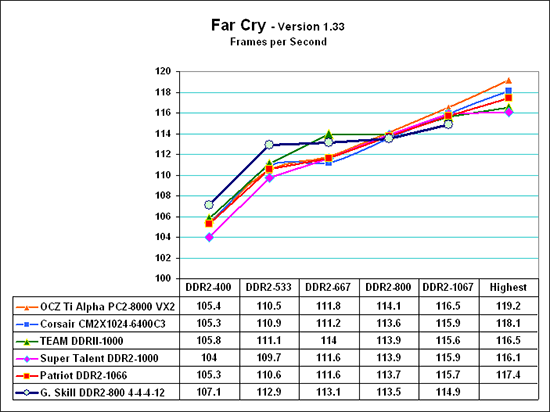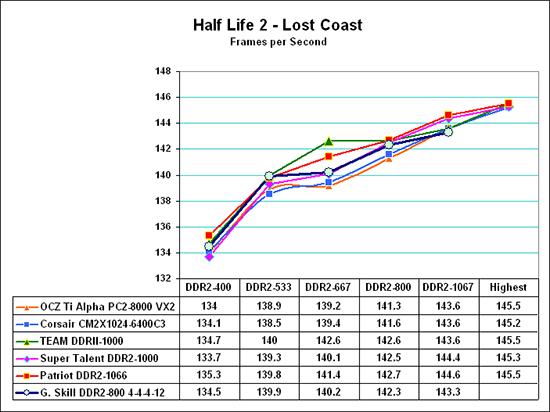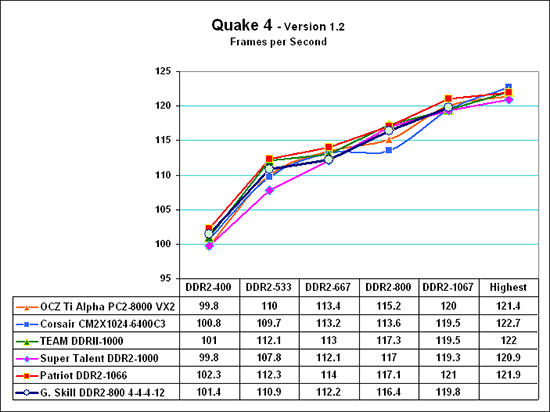 It is really interesting that memory is varying from 3-2-2-6 timings at DDR2-400 all the way to 5-5-5-15 timings at DDR2-1067. Despite the rapid drop in memory timings, all three games continue to show improvement in frame rates as memory speed increases. Put another way, performance continues to improve as memory speed increases This is the best evidence you will find to prove that increasing memory speed does increase performance - even to DDR2-1067 and beyond. The G.Skill DDR2-800 performance was as we expected. Results were virtually the same as the best DDR2 we have tested to DDR2-800, with a drop off due to slower timings at DDR2-1067. Memory speed can definitely improve system performance, but not to the extent of an upgraded video card or a higher speed processor.