Battlefield 2 Performance
Battlefield 2 is a game that needs no introduction, still being one of the most popular first-person shooters out right now. This game is so popular among FPS fans, it has more often than not been the reason for a graphics card upgrade. Not since Halo have game developers managed to integrate flying and driving vehicles into an already decent shooter so well, and we look forward to seeing how much farther this is taken in Battlefield 2142, the next installment in the series.
(Ed: Actually, some of us are rather disappointed with the changes brought on by the "2142 mod pack", but that's a story for another day....)
Our benchmark for this game consists of a third-person view of various players in the game on foot and in different vehicles, including a jet. The demo contains a lot of action (i.e. smoke, explosions, etc.) so it makes for a good test of the GPU. Since this is a fairly fast-paced first-person shooter, the average frame rate you want to look for is around 35 FPS and up to get the most out of this game. This particular benchmark uses the Daqing Oilfield map, however, which is not the most taxing BF2 map, so overall look for 45+ FPS as an indication that BF2 will run well on any map. Performance across other maps is similar, so a card that is twice as fast on one map will usually still be twice as fast on other maps.
Our settings for this benchmark are with the highest quality settings available, with view distance set to "max" and all the shadows lighting and other effects enabled. This is so that we can get the best idea of how well each of these cards runs this game.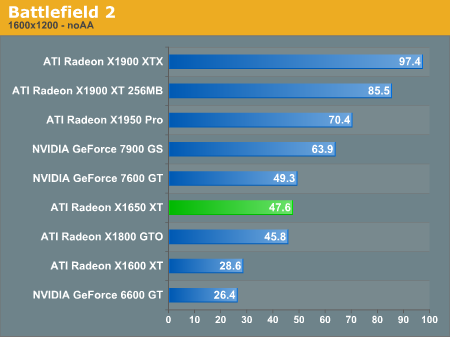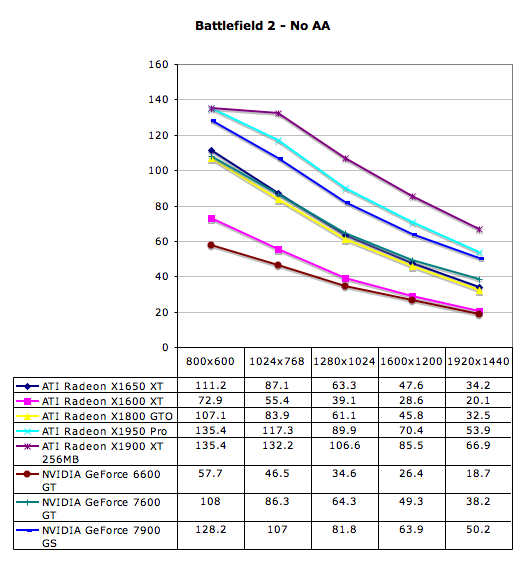 As we mentioned before, we want to pay close attention to how the X1650 XT compares in performance with the 7600 GT. We see here in our first test that the X1650 XT does in fact get similar frame rates to the 7600 GT, getting slightly higher performance in the lower resolutions, and slightly lower performance in the higher resolutions. Generally though, we see only a few frames difference here at the most in each of the resolutions between the X1650 XT and the 7600 GT, which is interesting.
When we compare the X1650 XT to the X1600 XT, we can see what those extra pipelines give us in performance. At the highest resolution, 1920x1440, we see an FPS increase of 70% from the X1650 XT over the X1600 XT. You easily get another resolution increase out of the X1650 XT over the X1600, and sometimes almost two bumps in resolution.