Abit AB9 Pro: Feature Set
Abit AB9-Pro
Market Segment:
Mid-Range Performance
CPU Interface:
Socket T (Socket 775)
CPU Support:
LGA775-based Pentium 4, Celeron D, Pentium D, Pentium EE, Core 2 Duo, Core 2 Extreme
Chipset:
Intel P965 + ICH8R
Bus Speeds:
100 to 600 in 1MHz Increments
Memory Speeds:
Auto, 533, 667, 800
PCIe Speeds:
Auto, 100MHz~200MHz in 1MHz Increments
PCI:
Fixed at 33.33MHz
Core Voltage:
Auto, Base CPU V to 1.7250V in 0.0250V increments
CPU Clock Multiplier:
Auto, 6x-11x in 1X increments if CPU is unlocked, downwards unlocked, Core 2 Duo
DRAM Voltage:
1.75V ~ 2.50V in .05V or .10V increments
DRAM Timing Control:
SPD, 4 DRAM Timing Options
MCH Voltage:
1.25V ~1.45 in .05V increments
ICH Voltage:
1.50V ~1.70 in .05V increments
Memory Slots:
Four 240-pin DDR2 DIMM Slots
Dual-Channel Configuration
Regular Unbuffered Memory to 8GB Total
Expansion Slots:
1 - PCIe X16
2 - PCIe X1
2 - PCI Slot 2.3
Onboard SATA/RAID:
6 SATA 3Gbps Ports - (RAID 0,1,5, 1+0,JBOD) - Intel ICH8R
2 SATA 3Gbps Ports - (RAID 0,1,JBOD) - JMicron JMB363
1 SATA 3Gbps Ports - Silicon Image 3132
1 e-SATA 3Gbps Ports - Silicon Image 3132
Onboard IDE:
1 ATA133/100/66 Port (2 drives) - JMicron JMB363
Onboard USB 2.0/IEEE-1394:
10 USB 2.0 Ports - 4 I/O Panel - 6 via Headers
2 Firewire 400 Ports by TI TSB43AB23
Onboard LAN:
Gigabit Ethernet Controller - PCI Express Interface
Realtek RTL 8168
Onboard Audio:
Realtek ALC882D HD-Audio 8-channel CODEC
Power Connectors:
ATX 24-pin, 4-pin EATX 12V, 4-pin 12V Molex
I/O Panel:
1 x PS/2 Keyboard
1 x PS/2 Mouse
1 x S/PDIF Optical In
1 x S/PDIF Optical Out
1 x Audio Panel
2 x RJ45
1 x eSATA
4 x USB 2.0/1.1
BIOS Revision:
Award 1.5
Abit has delivered a well optioned and performance oriented P965 board that sells for around US $145. We tested with the 1.5 beta BIOS release after having some issues with overclocking utilizing the 1.4 BIOS. Also, the 1.5 BIOS allows downward multipliers with the Core 2 Duo processors while further improving system performance and stability. Our issues with the BIOS revolved around its pinkish display color but more importantly the fact that Abit only allows the basic four memory timings to be changed (tCAS, tRCD, tRP, tRAS). For a board of this caliber we believe this is definitely a mistake. The ability to increase the CPU voltage to 1.725V and memory to 2.50V is impressive considering the offerings on the other P965 based boards. However, we wish the memory settings above 2.30V were available in .05V increments.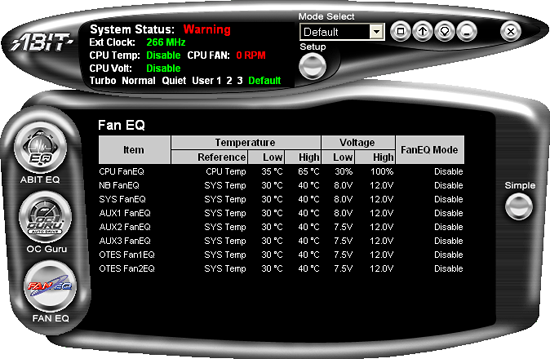 One area where Abit has constantly led all others is in the ability to overclock and monitor most system functions from Windows. Abit once again includes their excellent µGuru Windows utility that allows the user to overclock the system, change certain voltages, adjust fan speeds, and monitor hardware settings in real time without the need for rebooting. The OC Guru worked very well during our overclock testing and was a pleasure to use without resorting to the constant reboot procedure utilized by other Windows based utilities.
We also set the automatic overclocking to the Turbo setting and were greeted with a 7x288FSB setting for a CPU speed of 2016MHz that we would not consider turbo speed. Our memory was set to DDR2-800 but with 5-5-5-15 settings. This represents an 8% overclock of our component choices. Further information about this class leading utility can be
found here
.