A Quick Look at Gaming/Graphics Performance
One area that we've mentioned a couple times but which we haven't actually addressed yet is the graphics performance of the two systems. We ran 3DMark03 and 3DMark05 on both laptops (3DMark06 requires SM3.0 support and as such was not able to fully run on the MSI notebook). We will also include PCMark05 performance here, simply because it fits in well with the rest of the Futuremark benchmarks. Because we are also interested in looking at how the Core 2 Duo compares to an equivalently clocked Turion X2, we would like to include the CPU results from both 3DMark applications, but the graphics chip has such a large impact on those scores that they are basically meaningless unless you have equivalent GPUs.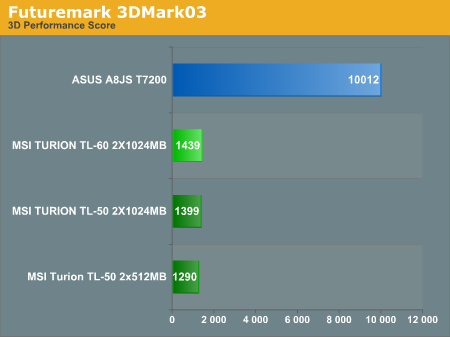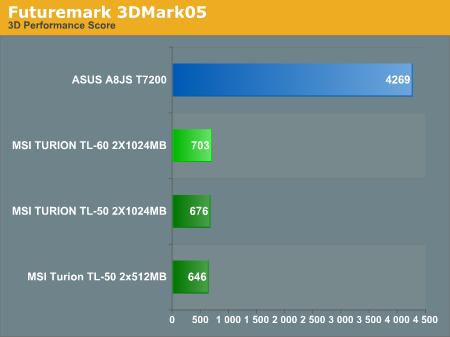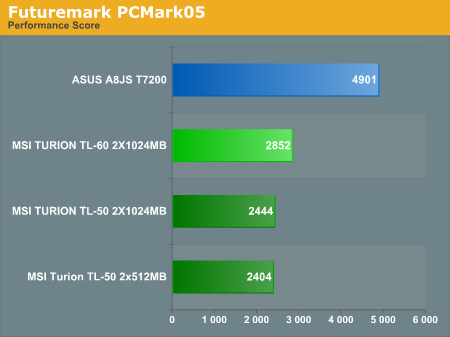 In the 3DMark tests, the MSI system's ATI Xpress 1100 IGP simply gets pummeled by the much more powerful GeForce Go 7700. The ASUS laptop is six times faster in 3DMark05 and seven times faster in 3DMark03, and it is also capable of running 3DMark06. PCMark05 also includes some graphics tests as part of the overall benchmark, and that combined with a faster hard drive accounts for the more than 70% performance advantage that the ASUS holds. As the earlier benchmarks showed, the Core 2 Duo T7200 is also faster than the Turion X2 TL-60, but the largest difference we saw earlier was around 40%, with the average performance advantage being closer to 30%.
As a final indication of how inadequate the ATI Xpress 1100 is when it comes to rendering modern 3D graphics, we ran our Half-Life 2: Lost Coast benchmark in both high quality and low quality graphics modes at 800x600 and 1280x800 resolutions. In the high-quality mode, we turned on all of the quality features, set anisotropic filtering to 8xAF, enabled HDR rendering, but left antialiasing disabled. For low quality graphics, we set all of the graphics options to the minimum, and we set the filtering level to trilinear. (We could have dropped it to bilinear filtering, but the performance difference wasn't noteworthy.)
Half-Life 2: Lost Coast (FPS)
Happy Halloween!
800x600 LQ
1280x800 LQ
800x600 HQ
1280x800 HQ
MSI TL-50 2x512MB
17.49
11.79
8.57
4.34
MSI TL-50 2x1024MB
18.19
12.26
8.94
4.54
MSI TL-60 2x1024MB
19.12
12.56
9.13
4.59
The high-quality graphics mode certainly wasn't going to be playable by any stretch of the imagination, but single digit frame rates even at low resolutions should help give you an idea of how slow the IGP is, and the sad thing is that the Xpress 1100 is almost twice as fast as the Intel GMA950. Dropping to minimum quality graphics, we are still unable to get playable frame rates. 640x480 would be a bit faster, and if we disabled DirectX 9 support Half-Life 2 would probably become playable, at which point you might as well go back and play the original Half-Life -- that can be run on the MSI laptop without any problems.
There are other 3D games available that would actually perform better, but we can say for certain that Quake 4, Doom 3, F.E.A.R., Oblivion, and just about any other 3D game we've used in any recent article would not perform acceptably. Basically, the system provides the bare minimum of 3D graphics support that we would recommend these days and not much else. A lot of people don't need 3D graphics, so that's okay, but there are certainly other options available that include better graphics for a small increase in price. Unlike desktop systems, there's no way to add better graphics to many laptop computers, so just make sure you are absolutely certain you will never need 3D graphics performance (Windows Vista) before you purchase a new laptop that only includes an anemic IGP solution.