Mobile History
Over the past few months, the enthusiast market has experienced a dramatic shift, as
Core 2 Duo
has proved itself to be the fastest consumer processor currently available. The interesting part about this is that Core 2 Duo as the name implies is based off the Core Duo architecture, which is in turn based off of the Pentium M architecture. While Pentium M chips never did reach the high clock speeds Pentium 4 was known for, the processor was actually very powerful and could compete well in many applications, especially when paired with a more powerful desktop platform. The dual core Yonah/Core Duo was
even more impressive
(and expensive) in Mobile On Desktop platforms, with the architectural enhancements Intel made. Unfortunately, with the exception of a few other
moderately
interesting
attempts
, Pentium M and Core Duo were basically relegated to use inside laptops.
In contrast, AMD's K8 architecture has done extremely well on the desktop during most of its life, and it is only recently that Intel has managed to regain the performance crown. Intel still continued to sell a large number of processors, in a large part due to brand recognition and large OEM connections, but the enthusiast market definitely found everything they wanted in the various AMD offerings, with one exception. Forgetting what might have been on the desktop space, Intel's mobile architecture and Centrino platform became the runaway favorites for anyone looking to purchase a new laptop, and with good reason. Sporting much lower power requirements than any previous mobile offering courtesy of the new architecture (or rather, a modification of the Pentium III architecture), Pentium M and Core Duo provided near-desktop levels of performance along with increased battery life.
Athlon 64 offered better performance per watt than Pentium 4 ever since its introduction, which seems like it should have made for a great mobile platform. While AMD did produce chips for the mobile sector, in general they remained a distant second in terms of popularity compared to the Intel offerings. Part of this may have been due to the amazing success Intel experienced with their Centrino brand name, a brand name that could only be used for laptops that included an Intel Pentium M (and later Core Duo) processor, an Intel chipset, and an Intel wireless networking adapter. In this way, Intel managed to sell three chips for every Centrino laptop, and customers were guaranteed a minimum level of performance and features. Eventually AMD tried to compete better with the Centrino platform by creating a new mobile processor, the Turion.
Turion was really nothing more than a renamed Athlon 64 socket 754 chip with lower power requirements, and while performance was still good the majority of laptop purchases continued to use Intel processors. In fact, performance wasn't merely good; due to the architectural design Banias/Dothan, there were quite a few areas where Turion was able to outperform Pentium M, and it was competitive in terms of performance per watt.
Having a competitive processor isn't enough for a laptop solution, unfortunately, as laptops are purchased as an entire unit. There were plenty of high-end Pentium M mobile offerings available, but most of the Turion designs were targeted more at the value sector, which means they often came equipped with less memory, lower end integrated graphics, slower/smaller hard drives, etc. in an attempt to keep costs down. Turion could hang with Pentium M, but once Intel launched the Core Duo offerings in early 2006 the single core Turion chips clearly became lower end options. Eventually, AMD would release dual core Turion X2 chips, hoping to once again become competitive with the Intel laptop designs.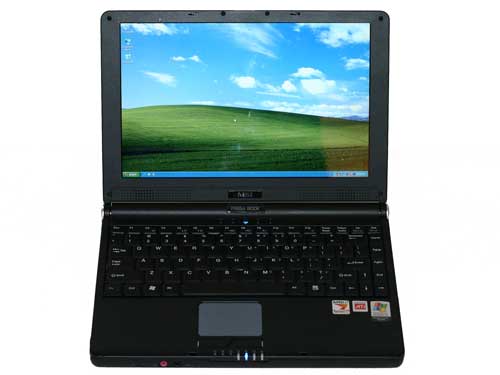 Click to enlarge
We managed to get our hands on an MSI S271 ultraportable laptop equipped with a Turion X2 several months back and planned on doing a head-to-head comparison against Intel's Core Duo. Unfortunately, various issues delayed our article and it is only now that we are finally able to present the results. Of course, Intel has now launched Core 2 Duo (Merom), raising the performance bar in the dual core mobile market.
So what sort of problems did we encounter with the MSI laptop? Once they were resolved how does it perform? In short, does it compete well with Intel's offerings, and should you consider buying one? Let's take a closer look.