Quake 4
There has always been a lot of debate in the community surrounding pure timedemo benchmarking. We have opted to try the NetTimeDemo option instead of our normal timedemo test for benchmarking Quake 4. This means our test results focus on the capability of each platform to render Quake 4 in a way that one could experience during game play, and testing has shown the performance results to be relatively consistent. NetTimeDemo will usually generate lower scores than our normal timedemo. Additionally, Quake 4 limits frame rates to 60 fps during gameplay whether or not VSync is enabled. We are looking at chipset performance rather than gaming performance, however, and the purpose of a benchmark is to show how two different systems compare in running the same task.
Our benchmark utilizes the IdNetDemo demo recording. This includes mainly outdoor areas with numerous players trying to kill each other. We tested the game with Ultra Quality settings (uncompressed normal maps), and we enabled all the advanced graphics options except for VSync. Id does a pretty good job of keeping frame rates consistent so in-game frame rates above 30 are acceptable for single player and 60 for multiplayer.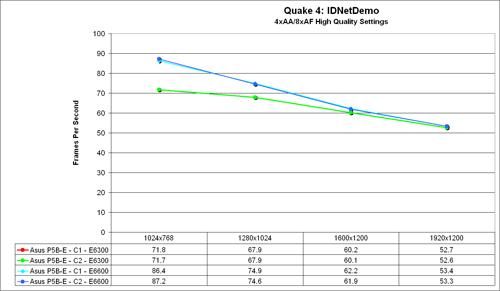 Click to enlarge
Company of Heroes
Company of Heroes was recently released and is proving to be a very addictive RTS game around the office. The game is extremely GPU intensive and also requires a hefty CPU at times. The visuals and audio experience within the game will at times have you believing the game is based more on a First Person Shooter than a traditional Real Time Strategy game. We set all options to High and turn on all additional video options. We found the Ultra settings to be almost unplayable with a single card and barely playable in certain areas with SLI or CrossFire.
The game contains a built-in performance test that utilizes the game engine to generate several different action scenes along with a coffee argument as a sideline distraction before the war starts. We found the performance test gives a good indication of how well your system will perform throughout the game on average, though some of the in-game action sequences can be more demanding than the performance test. We generally found the game to be enjoyable with an average frame rate above 35fps.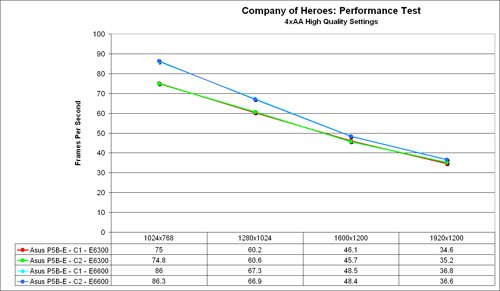 Click to enlarge
Our final two game tests show the exact same pattern as in the previous three game benchmarks with the results basically being the same between our C1 and C2 stepping motherboards. Either P965 MCH stepping on the ASUS P5B-E provides for a very enjoyable gaming experience especially when combined with a high-end GPU such as the MSI X1950XTX.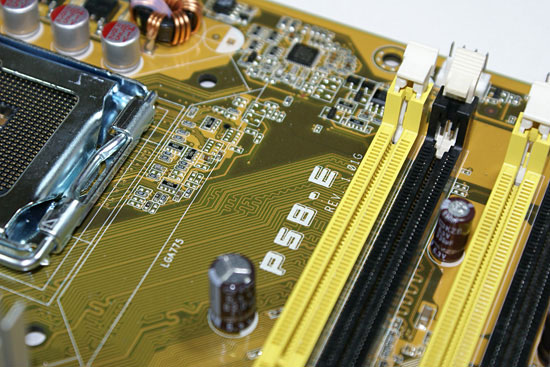 Current Thoughts
In testing to date we have not found any noticeable differences between the C1 and C2 stepping on our ASUS P5B-E motherboard samples. We did notice a very minimal improvement in the synthetic benchmarks but our application and game tests ended in a tie. The C1 stepping actually overclocked a little better than our C2 stepping but we cannot call a 1 FSB and 8MHz improvement in CPU clock a real advantage. Based upon some of the preliminary results of C2 based motherboards across the internet we expected a great deal more from our production level C2 boards, but to date those improvements cannot be found. We take that statement back for a moment: we did find a sizeable difference when using a one off engineering sample but a C1 stepping on that same board would have certainly produced the same results. As far as we are concerned at this time the only true improvements you will see with a C2 stepping will be based on the quality of the motherboard and BIOS it is utilizing.
Does this mean the P965 C2 stepping is a failure? Certainly not, but we believe the perceived improvements were way over-hyped -- or maybe the information provided was simply misunderstood? We do expect to see great results from this chipset in the near future but those results will occur due to improved motherboard and BIOS designs, not due to the minor changes made in the latest stepping.
As a matter of fact, the C2 stepping is a drop in replacement for the C1 and does not require a BIOS change if the register information is already programmed. Those tweaks to the Fast Memory Access feature were actually designed to improve the G965 graphics core performance and were a requirement before mass production of motherboards began using this chipset. As you will see in an upcoming G965 article, the C2 stepping is actually a hindrance in overclocking on these boards.
We are currently running additional tests with other C2 motherboards along with a wide variety of memory and CPU options on the ASUS P5B-E motherboard. At this time, we still do not see a measurable performance difference that would have us fueling the rumor mill or waiting to purchase a current motherboard with the revised C2 stepping. Maybe in time our opinion will change, but right now if you're looking for something new "just around the corner", Core 2 Quad is a lot more interesting than the P965 C1 vs. C2 stepping debate.