"If you would be wealthy, think of saving as well as getting."
This quote by noted author, diplomat, physicist, and politician Benjamin Franklin describes our attitude about the
ASRock
ConRoe945G-DVI motherboard. While the Core 2 Duo processor series was launched in late July, the availability of motherboards supporting this impressive CPU has not been stellar. We saw a small wave of Intel 975x and P965 chipset boards at launch that are finally starting to mature from a performance and compatibility standpoint. In the meantime we have seen a few additional boards launch based on these same chipsets, along with others using the NVIDIA nForce 570 SLI and NVIDIA nForce4 SLI X16 for Intel series. We have also witnessed some old now new again chipsets come of age based on the performance potential of Core 2 Duo. The VIA PT880Pro, Intel 945P, and Intel 865 fall into the latter category, and now we add our first look at the Intel 945G chipset with Core 2 Duo.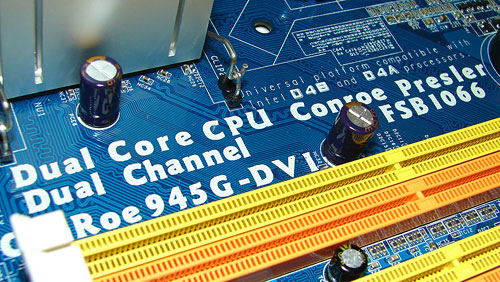 While the
945G
has been around for awhile the performance potential of the chipset is still very good, especially for the budget sector, and provides a solid platform for those interested in a mATX form factor board. The 945G will eventually be replaced by the recently released G965 chipset and we expect there to be an almost $40 difference in price between the two platforms for the time being. Whether the
G965
is truly worth this premium or not we will see in an upcoming article.
In the meantime, ASRock recently shipped us their ConRoe945G-DVI motherboard for evaluation. The ASRock board is expected to sell for around $75 and brings with it a full set of features including a separate DVI card that allows for dual monitor usage with the onboard Intel GMA950 graphics chip. While the onboard video is fine for general desktop usage and surfing the Internet, it is not meant for 3D gaming no matter how many buzzwords Intel throws out in their
GMA950 specification documents
. Our article today is meant as brief review of this chipset's capability as implemented by ASRock when compared to a recent review of other
budget chipsets
. We will have further performance results from this board and others based on the mATX platform in a future roundup.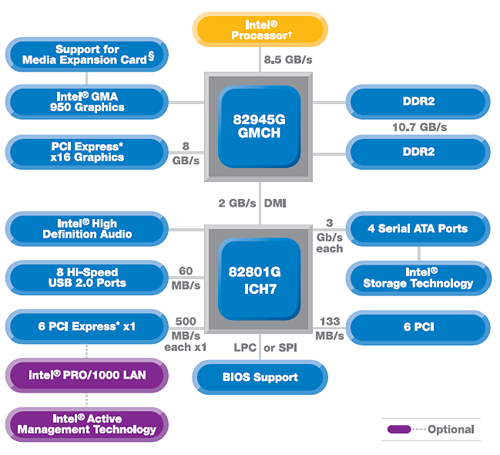 The 945G chipset used by ASRock in their
ConRoe945G-DVI
motherboard is over a year old, and it is paired with the Intel ICH7. Our first impression of the motherboard was very good as the layout of the board is clean and well organized for a mATX design. The chart above lists the standard feature set available when utilizing the Intel 945G (82945G) and ICH7 (82801GB) chipsets. The 945G/ICH7 combination enables full support for a single X16 PCI-E graphics slot or onboard GMA950 graphics configuration, a single HDMR slot, up to six X1 PCI-E devices, 4GB memory addressability, and native DDR2 533/667MHz memory support. This combination also enables support for eight USB 2.0 ports, HD Audio, Gigabit Ethernet support, six PCI slots, four SATA 3.0Gb/s ports, and two IDE devices. The 945G chipset does not support the Pentium EE or XE series of processors.
Now let's take a closer look at the performance this board offers.