Performance
The fact that the TripleHead2Go allows for wider resolutions naturally results in higher performance demands on your graphics hardware. We wanted to get a basic idea of how well our system was able to run benchmarks in both Quake 4 and Half-Life 2: Episode One at the highest resolution possible (3840x1024). As we mentioned before, ATI hardware isn't able to achieve this resolution, so instead we tested one of the most powerful NVIDIA cards we had, the EVGA e-GeForce 7900 GTX (Factory overclocked to 690MHz/1.76GHz) with and without AA.
Here are the specifications of the system we used, along with the benchmark results for a couple games:
AMD FX-57
2GB DDR 400 RAM
NVIDIA GeForce 7900GTX
Seagate 7200.7 Harddrive
OCZ 700W PSU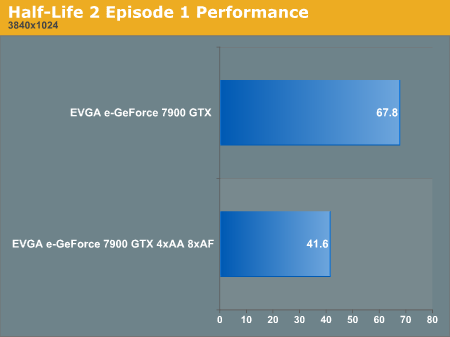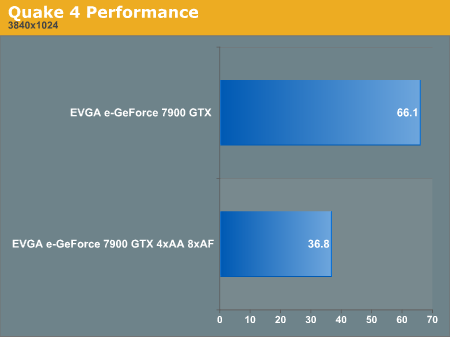 Considering the sheer power of the EVGA 7900 GTX, the results we see here are interesting. While this card runs these tests fairly easily, less powerful cards will definitely have their limits pushed with this resolution, especially with AA enabled. This means a graphics upgrade might be required, which in turns means higher cost for the potential buyer. As of right now, ATI users won't be able to run games at the highest resolution (3840x1024) due to an apparent driver issue, but hopefully this as well as the Crossfire issue will be fixed in the near future. Until then, it looks as though NVIDIA users will benefit most from the Matrox TripleHead2Go.
Power Consumption
Besides the raw GPU power required to run this device with games, we were also interested to find out what kind of power draw we could expect from something like the TripleHead2Go. We measured the overall wattage of the device at the wall from its external power connection, which looks very similar to a laptop power cord. Also, we took power readings while the system was idle at the highest resolution (with only windows running 3840x1024 across three monitors) and under load (running a game at the same resolution). Here are the results:
Power Draw
Idle
4W
Load
10W
We can see that the TripleHead2Go draws very little power, which is a plus, and the fact that it has an external power connection means that you won't have to worry about any extra strain on your computer's power supply. That does mean you will need one more power socket near the computer when using the TH2G, but since a power strip will likely be needed to drive three displays plus the PC already that shouldn't be a problem.