Overclocking
Overclocking lower end CPUs is always more fun if you're actually buying these things because, as long as the manufacturing process is mature and your component selection is sound, you're usually able to reach much higher speeds than you paid for - an ever rewarding achievement. The Athlon 64 X2 CPUs have been fairly good overclockers, with the X2 3800+ usually able to run anywhere from 4600+ speeds (2.4GHz) up to FX-62 speeds (2.8GHz) and sometimes slightly beyond (3.0 - 3.1GHz). While we don't have any Socket-AM2 Athlon 64 X2 3800+ CPUs on hand (we will use a 4600+ and underclock it for our benchmarks), we do have performance results of the X2 4200+, 4600+ and FX-62 to give you an idea of where an overclocked X2 3800+ can get you performance-wise.
What we didn't know previously however was how far we could overclock retail E6300/E6400 CPUs, and furthermore we had no idea what a highly overclocked 2MB Core 2 Duo CPU would perform like. Armed with two B1 stepping Core 2 Duo CPUs, one E6300 and one E6400, we went to task on overclocking them. Our goal wasn't to reach the absolute highest overclocks using high end cooling, but rather the maximum stable overclocks easily attainable with a stock Intel heatsink/fan. Undoubtedly we could have reached higher frequencies with more elaborate cooling, but we were more interested in the bare minimum of what was attainable - and we weren't disappointed.
Our E6300 was able to reach 2.592GHz using a 370MHz FSB at 1.400V (up from 1.320V stock):
Our E6400 was a bit more successful, reaching 2.88GHz using a 360MHz FSB at 1.350V (up from 1.300V stock):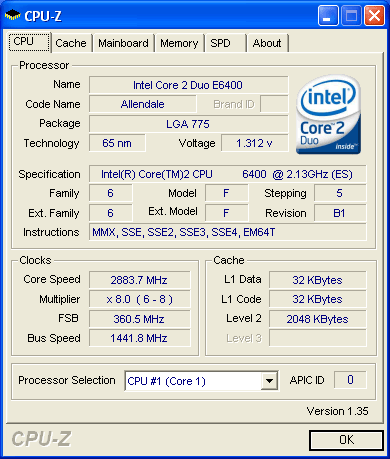 Both CPUs were totally stable when overclocked and were able to complete our multiple days of benchmarking without behaving any less stable than when clocked at their default frequencies.