Battlefield 2 Performance
At the lowest resolution with and without AA, both the highest end ATI card we tested (the X1900 XT) and the NVIDIA 7900 GTX lead the 7950 GX2 in performance. In most other (non CPU limited) cases, we will see the new NVIDIA flagship part come out on top, but this is one case where the added overhead of multi-GPU management gets in the way. Hopefully anyone who has one fo these cards will also own a display that does much higher resolutions than 1280x1024.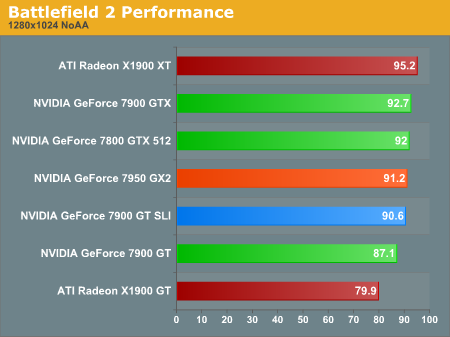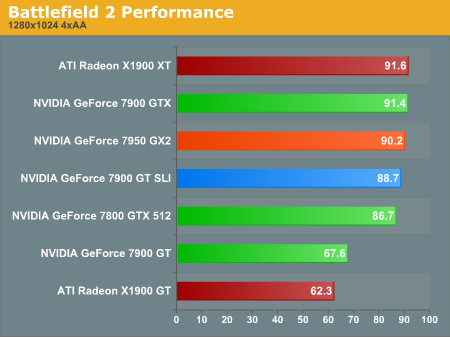 Again, at 1600x1200 without AA we see the 7950 GX2 running into a CPU limitation. When 4xAA gets enabled, we see the 7950 GX2 jump to the front of the class. In fact, enabling 4xAA only causes the 7950 GX2 to drop an average of 2.6 frames per second from the non-antialiased benchmark.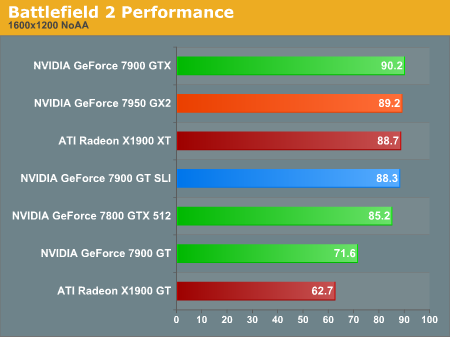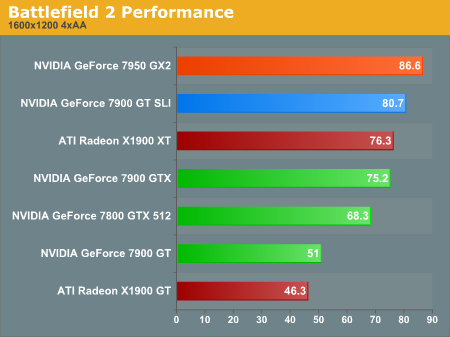 Running at our highest resolution, both with and without AA leaves the 7950 GX2 solidly in the performance lead under BF2. It isn't surprising that the closest competitor is the 7900 GT SLI setup, followed by the X1900 XT. At the maximum quality setting, the 7900 GTX falls a stunning 36% (or 19.1 average fps) behind the 7950 GX2. Not every game delivers results this impressive, but BF2 is certainly a good title to perform well under.