Basic Features
DFI CFX3200-DR Features
CPU Interface
Socket 939 Athlon64
Chipset
ATI RD580 Northbridge - ULi M1575 Southbridge
Bus Speeds
0 to 500 in 1MHz Increments
Memory Speeds
DDR200,240,266,280,300,333,360,400
(433,466,500 with Rev. E AMD)
PCIe Speeds
100 to 150 in 1MHz Increments
PCI/AGP
Fixed at 33/66
Core Voltage
Auto, 0.8V to 1.55V in 0.025V increments
PLUS VOLTAGE x
101.4%, 102.9%, 104.3%, 105.8%, 107.2%, 108.6%, 110.0%, 111.5%, 113.0%, 114.4%, 115.8%, 117.3%, 118.7%, 120.2%, 121.6% (Maximum vCore 1.88V)
CPU Clock Multiplier
4x-25.0x in 0.5X increments
DRAM Voltage
2.06v to 4.15v in .01v to .03v increments
HyperTransport Frequency
1000MHz (1GHz)
(Stable in overclocking to 1500+ HT)
HyperTransport Multiplier
Auto, 1X to 5X
Northbridge Over-Voltage:
Auto, Disabled, Enabled
Enabled adds 3 additional voltage options below
NB Core Voltage
1.21v, 1.34v, 1.47v, 1.60v
NB Analog Voltage
1.21v, 1.34v, 1.47v, 1.60v
HyperTransport Bus Voltage
1.21v, 1.34v, 1.47v, 1.60v
SB PCI Express Voltage
1.8v, 1.85v, 1.9v, 1.95v
GFX1/2 (PCIe) Link Width
X16,x12,x8,x4,x2,x1
GFX and/or SB Payload
64,32, or 16 Bytes
Delay GFX Reset
0 to 200mS in 1mS increments
Delay GPP Reset
0 to 200mS in 1mS increments
GFX 1 and/or 2 Slot Power Limit
0 to 250 watts in 1 watt increments
GPP Slot Power Limit
0 to 250 watts in 1 watt increments
+10% Extra Current
GFX1,GFX2,GPP, and/or SB
RD580 HT PLL Speed
Auto, High Speed, Low Speed
HT Bus NMOS Drive Strength
00-31 in 1 increments (32 Settings)
HT Bus PMOS Drive Strength
00-31 in 1 increments (32 Settings)
HT Bus Receiver Drive Strength
00-31 in 1 increments (32 Settings)
AMD Cool'n'Quiet
Auto, Disable
Cool'n'Quiet Max FID
Auto, 8.0x to 13x in 0.5x increments
Memory Slots
Four 184-pin DDR DIMM Slots
Dual-Channel Configuration
Regular Unbuffered or ECC Memory to 4GB Total
Built-In Memory Test
Disabled, Enabled
DQS Skew Control
Increase (+) or Decrease (-) -255 to 255 in 1 increments
Expansion Slots
2 PCIe X16
2 PCIe X1
3 PCI Slots
Onboard SATA/RAID
4 SATA2 Drives by ULi M1575 (RAID 0,1,1+0,5,JBOD)
4 SATA Drives by Silicon Image 3114 (RAID 0,1,0+1,JBOD)
Onboard IDE/IDE RAID
Two Standard ATA133/100/66 (4 drives)
Onboard USB 2.0/IEEE-1394
8 USB 2.0 ports supported by ULi M1575
2 Firewire by VIA VT6307
Onboard LAN
PCIe Gigabit by Marvel Yukon 88E8052
PCIe Gigabit by Marvel Yukon 88E8053
Onboard Audio
Azalia HD Karajan Audio Module powered by Realtek ALC882 codec
BIOS Revision
Award 417 (4/17/06)
There is a very good reason that the Basic Features chart is the largest we have ever created for a review. DFI has a reputation for providing a huge array of adjustments on their enthusiast-oriented motherboards, and it normally is a challenge to describe the range of adjustments available on DFI motherboards. The CFX3200-DR takes that to a new level, however, with the widest and finest adjustments ever seen on a production motherboard. Despite the size of the expanded features table, we still couldn't include everything you can adjust on this DFI. This will be welcomed news to those that want to test and control every aspect of their computing experience.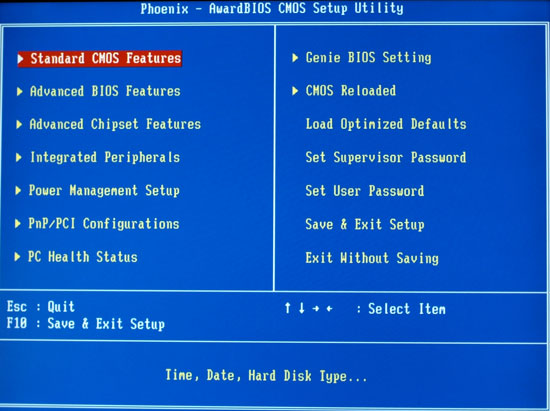 DFI uses the familiar Award BIOS to control the DFX3200. Most adjustments of interest to overclockers and enthusiasts will be found under the "Genie BIOS Setting" sub-menu. Adjustments are so extensive they require 2 pages for base options.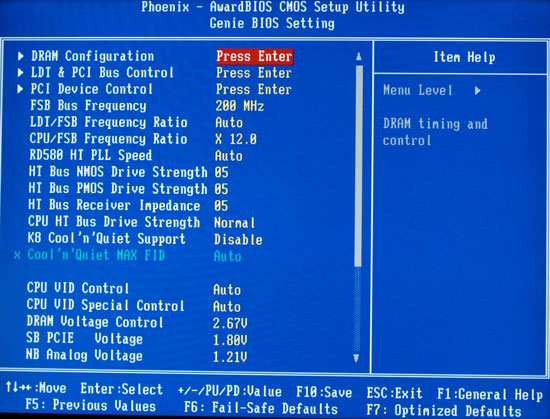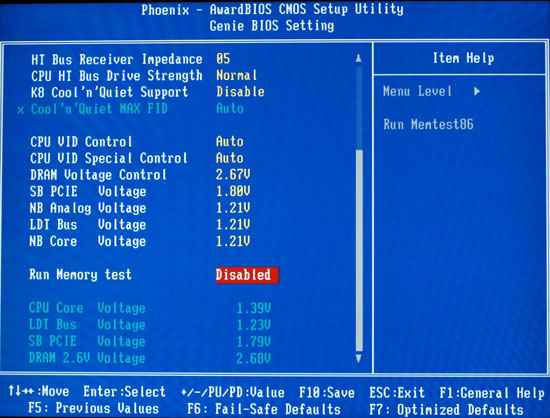 Additional submenus under the Genie Settings include a full range of DRAM controls, with every setting for menu you could imagine - and a few more you probably didn't even know existed. These include skew control with 511 adjustment levels (+/- 255 steps).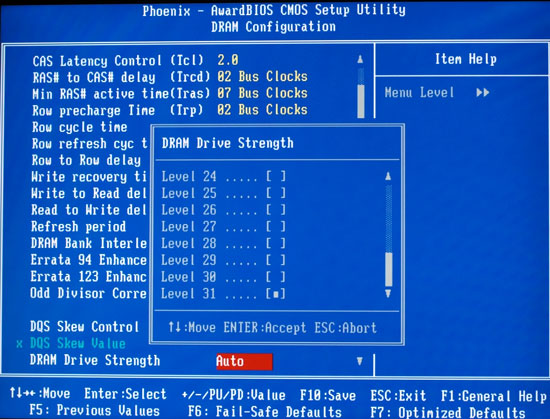 DRAM drive strength includes 31 discrete levels of drive strength. No one will ever complain about lack of control on the DFI CFX3200. We are fans of extensive adjustment options in the BIOS, but the DFI may take things too far for some enthusiasts. There need to be more auto settings that work for the great majority of users. Users can then go deeper if they choose, with confidence the "auto" settings will get them going.
Since the CFX3200 was first received there have been several BIOS revisions. The shipping BIOS had issues with many memory types and would not even boot with some memories. The BIOS used in this review, the 417, worked well with almost any memory we had for testing, but it took several revisions to get there. As with past DFI boards you will likely find a huge number of custom BIOS revisions floating around that have been developed to work best with one hot memory or another. This allows you to squeeze the last bit of performance out of any memory with the DFI, but it can sometimes be a daunting challenge if you are running a memory that is not the hottest DRAM of the week.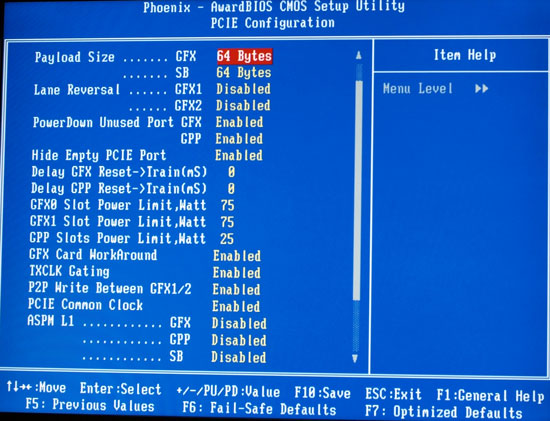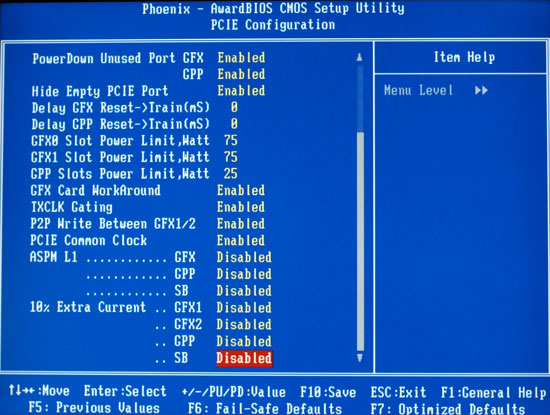 "Advanced Features", "PCIe Configuration" is another submenu loaded with tweaks to squeeze a bit more from the board. These include the ability to set the link width of the two X16 ports, custom control of slot resets, and fully adjustable slot wattage from 0 to 250 watts. You can also set peer to peer writes between graphics slots which is reported to be a requirement for running SLI on an ATI chipset board, and boost current to slots and the Southbridge. Many are reporting that adjustments in this sub-menu can allow a bit more performance from your graphics system.
We have just scratched the surface on the extensive CFX3200-DR BIOS. There are already guides appearing on several forums and we would suggest that you look more deeply at one of these tweak guides if you want to know more about setting up this DFI board for best performance with a particular memory or graphics card setup.