Overall Performance using Winstone 2004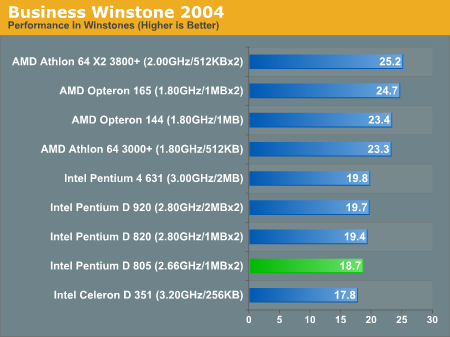 Business Winstone and business applications in general have hardly been a strong point of Intel's NetBurst architecture. The Pentium D 805, along with its brethren, fall to the bottom of the chart. The 805 actually only loses about 4% of the performance of the Pentium D 820, but if single task office applications are all you'll be using you are much better off with the single core Athlon 64 3000+. Even with light multitasking thrown in (as the Business Winstone suite tests), you're still better off with the Athlon 64. You will however lose some of the increase in responsiveness that a dual core CPU will afford you, as dual core CPUs can help mask much of the impact of poor scheduling by Windows when multitasking.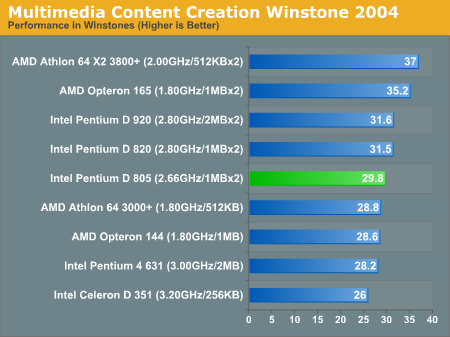 The picture changes a bit when you toss some 3D rendering and more multimedia centric applications into the mix. Now the Pentium D 805 offers better performance than the Athlon 64 3000+, while giving you the more tangible but not easily quantifiable benefits of a dual core CPU.
As the tasks become more intense, the higher clock and faster FSB of the Pentium D 820 become more important; here the Pentium D 820 holds close to a 6% advantage over the 805. Of course at the top of the charts are the Opteron 165 and Athlon 64 X2 3800+, but at more than twice the price of the Pentium D 805 you would expect no less.