"Nothing endures but change."
This quote by Greek philosopher Heraclitus describes our thoughts about the Biostar PT880 Pro-A7 Combo motherboard. Biostar started operations in 1986 and has a history of providing the latest products at inexpensive price points. More information about the entire line of Biostar's products can be found
here
.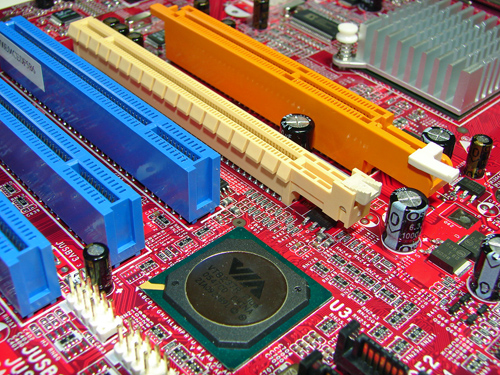 The PT880 Pro-A7 Combo motherboard is based on the VIA PT880 PRO and VT8237R chipsets. Our initial impression of the Biostar PT880 Pro-A7 Combo upon opening the box was one of piqued interest. The board supports both AGP and PCI Express slots for graphic cards along with support for both DDR and DDR2 memory. The layout of the board is decent, although we disagree with the placement of the 20-pin ATX power connector and IDE connectors. We were also disappointed with the omission of the excellent VIA Envy24PT audio controller and Gigabit Ethernet, but we understood the absence of these features based upon a retail price of US $65.
During our testing and general usage of the Biostar PT880 Pro-A7 Combo, we found the board's stability to be very good at stock settings, although it delivered lower than expected results in the latest synthetic and game benchmarks. However, the board continually generated random lock-ups if we tried to exceed the SPD settings of our DDR memory modules. We did not experience these same issues with our DDR2 memory modules.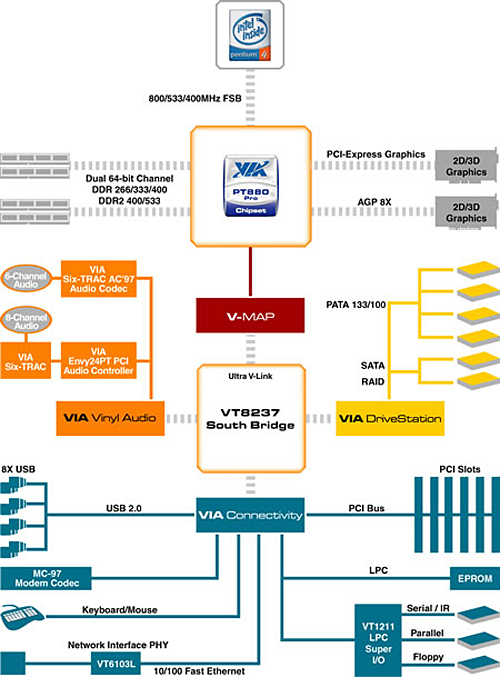 While the VIA PT880 PRO chipset was released about a year ago, boards based on this chipset have been slow to market. The VIA PT880 PRO is targeted for the mainstream value market and was originally designed to compete directly against the Intel 915 and 925x chipsets. Unlike the original PT880 PRO specifications, the current iteration does not offer support for a 1066MHz FSB, 667MHz DDR2, or PCI Express X8 operation for the graphics port. The VIA PT880 PRO now supports a maximum 800MHz FSB, 533MHz DDR2, and the PCI Express graphics port only supports X4 operations.
The chart above lists the standard feature set available when utilizing the VIA PT880 PRO and VT8237R chipsets . The PT880 PRO Northbridge enables support for X4 PCI-E and AGP 3.0 (8X) graphics capability, 4GB memory addressability, along with DDR2 400/533 and DDR 266/333/400 memory support. The VT8237R Southbridge enables support for 8 USB 2.0 ports, up to six 32 bit PCI devices , AC97 6-channel audio, 10/100Mb/s Ethernet, 2 SATA 1.5Gb/s ports, and 4 IDE devices. This southbridge design is starting to look very antiquated when compared to recent offerings from NVIDIA, Intel, and ULi.
VIA Velocity Gigabit Ethernet and VIA Gold 8-channel audio are fully supported through the utilization of PCI companion controllers. Unfortunately, Biostar utilizes AC-97 audio via the Realtek ALC-655 and 10/100Mb/s PCI Ethernet via the Realtek 8201CL PHY. Also, while the chipset will technically support up to 4GB of RAM, Biostar's decision to provide two DDR and two DDR2 slots limits the maximum amount of RAM to 2GB.
The VIA PT880 Pro features a high bandwidth Ultra V-Link bus to allow communication between the chipset's North and South bridges at 1GB/s. VIA's DualGFX Express allows running both AGP and PCI-Express graphics cards simultaneously, providing the ability to connect up to four separate displays. In our limited testing of this feature, it did allow multi-monitor support of up to four displays while offering 3D graphics acceleration for both cards. However, during testing only the primary display card offered full 3D graphics acceleration with the secondary display card operating at near or non-accelerated speeds the majority of time.
Now, let's take a closer look at the features and performance that this board offers.