The Benchmark Issue
Although we mentioned that there's not much you can do to make a timedemo really favor one CPU architecture over another, you all demanded that we try with one of our demos. We put our Quake 4 demo file on a USB drive and copied it over to the Conroe and Athlon 64 FX-60 systems that Intel had setup. Note that the version of Quake 4 installed was 1.0.5.0 which is newer than what we test with in our CPU reviews, so you can't directly compare the numbers to previous AnandTech results but at least we'd be able to see if Intel's Quake 4 demo was somehow giving Conroe the unfair advantage.
We re-ran Intel's Quake 4 demo to confirm our initial results. Much to our surprise, we actually short-changed Intel the first time around. We noted that Conroe held a 28% performance advantage over the 2.8GHz Athlon 64 FX-60 with SMP disabled, but with it enabled the performance advantage shrunk to 15%. We re-tested and confirmed our suspicions that Conroe's Quake 4 performance with SMP enabled was more in line at a 24% advantage: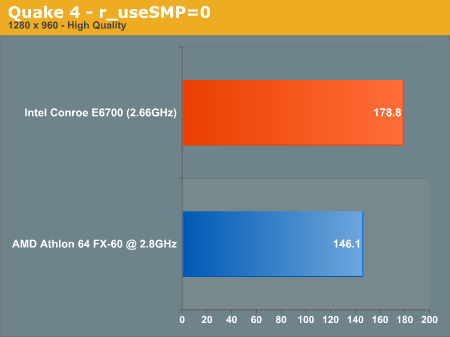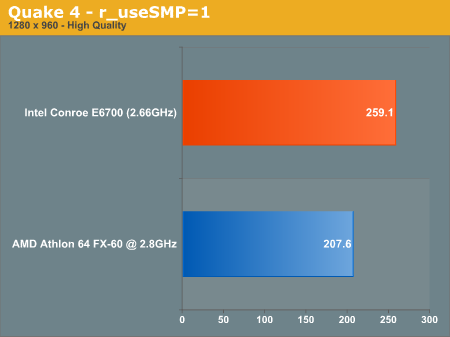 But what we're really interested in is how Conroe performed in the very same Quake 4 demo that has been favoring AMD processors in all of our CPU reviews. We loaded up our Quake 4 demo and had at it: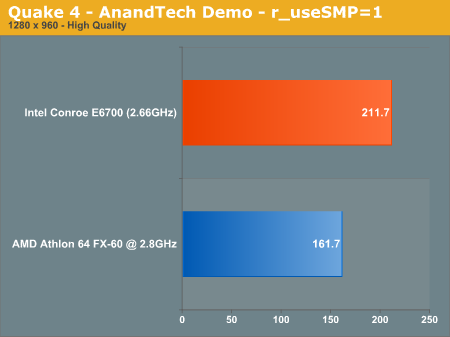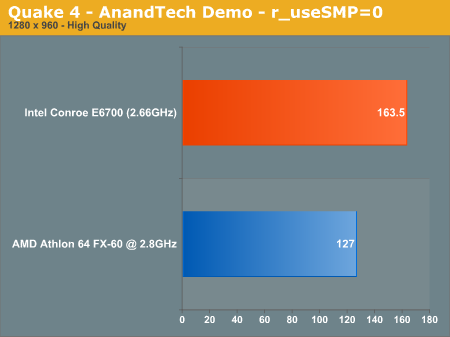 With SMP enabled we see that Conroe holds an even larger 31% performance advantage and with it disabled, the unreleased CPU was 29% faster. If anything, Intel's own demo was a little more conservative on Conroe and definitely not optimized to make AMD look bad.