The BIOS Issue
The one item that a number of you pointed out was that the BIOS used on the DFI LANPARTY UT RDX200 (RD480) motherboard was in fact the first version released for this particular motherboard. Intel told us that the motherboard was purchased a little over two weeks ago and the BIOS used on it was what came with the motherboard, but we still agreed with you all that the system should be tested with the latest BIOS to remove all doubt of wrong doing.
There are only two BIOS files publicly available for this motherboard, one being the first release that was loaded on the system and the other being a file dated 12/23/2005. The 12/23 BIOS offers the following fixes according to DFI:
1. Fix memory Set 2-1-1-1-1 and 4-1-1 mode wrong.
2. Set Cool'n'Quiet default disable.
3. Change the description of DQDRV.
4. Fix Read Preamble Table Error.
5. Shorten the delay time during clock programming loop.
6. Add over clocks step by step.
7. Fix fill 3114 SVID&SSID under Cross fire mode.
8. Fix soft-reset hang on POST code F2h if enable USB mouse support.
9. Change CMOS used to fix some control item can't save.
10. Add support K8 FX60 CPU.
11. Update SiI3112 Raid ROM.
12. Fix some SATA(DiamondMax 10 (6B160M0) HDD ) HDD detect fail at first time cool boot.
That's a pretty long list of changes, which could definitely be responsible for a change in performance. We were able to test the impact of the new BIOS, and our results are below:
| | | |
| --- | --- | --- |
| DFI LANPARTY UT RDX200 | 10/11/2005 BIOS | 12/23/2005 BIOS |
| Quake 4 - 1280 x 960 (Avg Frame Rate) | 207.5 fps | 207.6 fps |
| F.E.A.R. - 1024 x 768 (Avg Frame Rate) | 151.0 fps | 158.0 fps |
| Windows Media Encoder 9 (Encode Time) | 75 seconds | 75 seconds |
| DivX 6.1 (Encode Time) | 44 seconds | 44 seconds |
| iTunes 6.0.1.3 (Encode Time) | 73 seconds | 72 seconds |
UT2004 and Half Life 2 were absent from our testing, simply because we didn't have the time to get them installed, but the rest of the scores here should be indicative of the full impact of the BIOS update. In the media encoding tests we saw absolutely no performance impact other than a 1 second reduction in iTunes encoding time. F.E.AR. at 1024 x 768 saw a reasonable gain of 4%. Quake 4 remained virtually unchanged.
With the new BIOS installed we confirmed that Cool'n'Quiet was disabled, so that was not impacting the performance results at all. The new BIOS also correctly identified the Athlon 64 FX-60 processor, although as you can see from the results above, the proper detection of the CPU didn't translate into greater performance.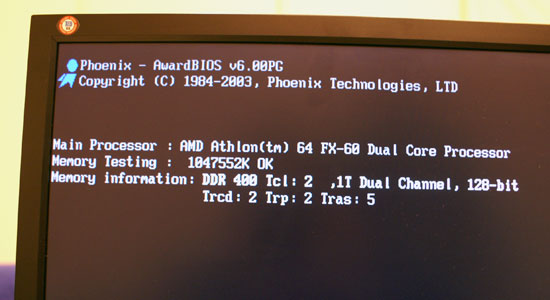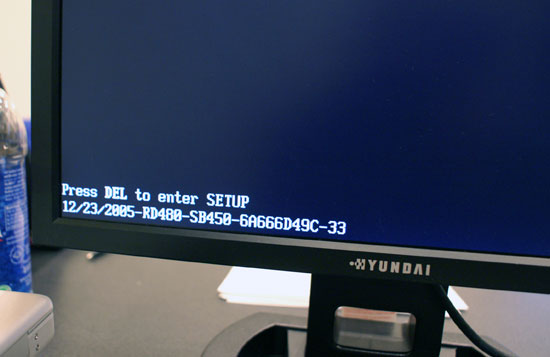 The new BIOS in action