Media Encoding Performance with iTunes and Quicktime
The encoding tests here are identical to the ones that we run in our CPU tests, except obviously run under Mac OS X 10.4.4 instead of Windows XP.  It's important to note that iTunes, Quicktime as well as the iLife and iWork suites are all Universal applications, meaning that they run natively on both PowerPC and x86 architectures.  The performance comparisons on these next few pages is done without any binary translation.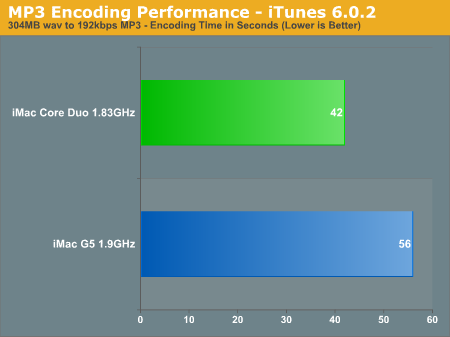 The iMac G5 is pretty strong at floating point performance as we've already seen, so the fact that the Core Duo completed the 304MB encoding task in 3/4 of the time set off some alarms.  The 1.9GHz iMac G5 is a single core, single processor machine, while the Core Duo based iMac has two cores running at 1.83GHz.  The iTunes encoding test, like many operations in Mac OS X applications, is multithreaded, meaning that it takes advantage of multi-core or multi-processor systems.  So the question we need to be asking is how much of this performance advantage is due to the Core Duo's dual cores?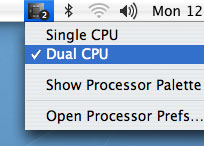 Luckily, OS X's processor panel provides a quick and easy way to disable one of the cores in the Core Duo machine, so we have a way of finding out.  With one core disabled, I added the non-existant iMac Core Solo 1.83GHz to the graph: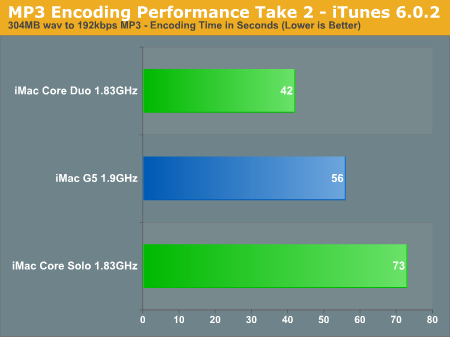 With an encoding time of 73 seconds, the Core Solo 1.83GHz is actually slower than the G5 1.9GHz.  Intel doesn't win because of a faster single core. They win because they have two cores where Apple could previously only put one. 
Let's take a look at Quicktime next; once again, this is the same test that's run in our CPU reviews.  This time around, I've included the Core Solo from the start: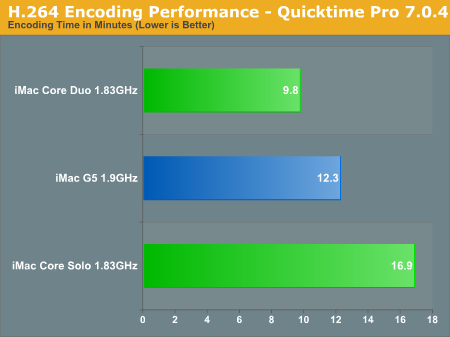 While the Core Duo wins the test, the Core Solo is actually slower than the single core G5.  We can cut Intel a little slack here, as it seems that Quicktime isn't very well optimized for their processors and Apple is reportedly working on fixing that, but the point is that we have now seen two cases where the G5 doesn't lose because it's a slower chip. It loses because there is only one of them in the iMac.