A Fair Pentium M Comparison
Another issue that we had with the first article was that our comparison to the Pentium M was based on using an Intel 865 chipset; more specifically, using ASUS' CT-479 adapter and their P4P800-SE motherboard.  While the motherboard itself performs quite well, we wanted a more even comparison between the Pentium M and the upcoming Core Duo processor.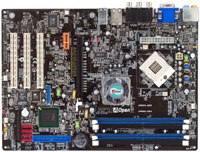 We turned to AOpen and they provided us with their i915Ga-HFS motherboard, based on Intel's mobile 915 express chipset with native support for the Pentium M processor.  The biggest difference between our AOpen 915 platform and the 865 platform that we tested back in March?  The 915 platform supports DDR2 memory, just like the 945 platform that we used with the Core Duo.  Being able to use the exact same memory technology across both platforms removed yet another variable from our comparison, but frankly, it wasn't going to do much to the performance breakdown between the two chips. 

AOpen's board worked well during our testing, although we did have the occasional issue where the system would not POST.  The issue wasn't readily repeatable, but it did happen a few times during our testing. 

The only other quirk that we ran into with the AOpen board was the fact that it features absolutely no legacy ports on its I/O panel.  There is support for a single PS/2 port that requires a separate bracket to be installed in your case (provided with the motherboard).  Given the prevalence of USB keyboards and mice these days, it's not that big of an issue. We only mention it because the majority of our KVMs in-house are still PS/2 based. 

We paired AOpen's 915 board with a Pentium M 760, which is based on the 90nm Dothan core running at 2.0GHz with a 533MHz FSB.  So while the FSB speed is slower than the Core Duo that we're testing, the identical clock speed is helpful in a direct comparison between the two chips.