3R Mstation HT-1100
The first HTPC case that we're going to look at is from a relatively obscure case manufacturer named 3R System. These first shots of the case already have a system installed in them.

Despite trying a couple of different drives, we couldn't get the included CD-drive bezel to line up properly. The design is simple; an included aluminum plate with double-sided tape is supposed to be placed on the front of the drive instead of the default tray cover, and then an eject button is held in place from inside the case after the drive is slid in from behind.

It fails, however, if any of the following conditions hold true:
The tray height does not exactly correspond with the tray opening in the front of the case.

The tray cover of the CD/DVD drive is permanently attached to the tray.

The eject button of the drive itself is permanently attached.

The eject button doesn't exactly correspond with the button opening in the front.

The user decides to forego the use of an optical drive at all. (There's no clean way to secure the tray cover without a drive installed.)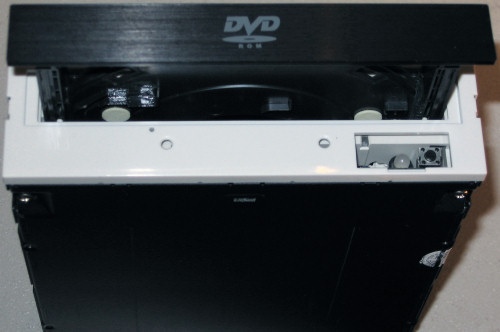 This is not to discourage everyone from considering this case at all, however, because if one does have a proper optical drive or at least a black one that will look OK installed without the included tray cover, the front of the case will still look nice otherwise.