Soft Shadows Performance
Please refer back to our earlier section on soft shadows to learn why (aside from abysmal performance) we recommend against enabling soft shadows. Upon selecting the option in FEAR to enable soft shadows, a dialog box will pop up to inform the gamer that soft shadows are a high end option, which will only run well on heavy hitting graphics hardware. It is very true that you need to high end hardware to run the game with soft shadows, but we just don't like the feature.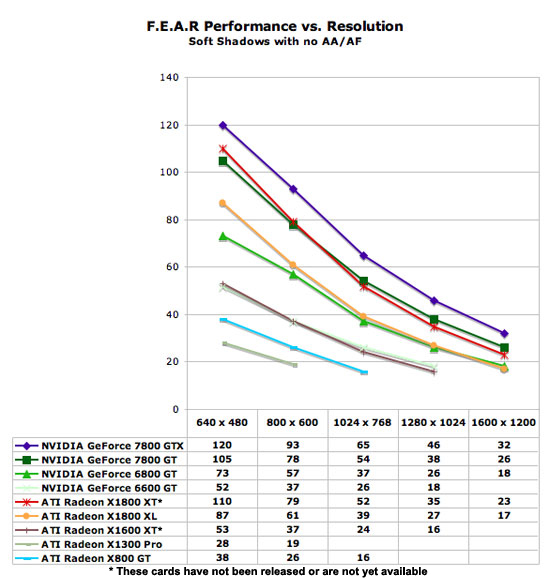 With Soft Shadows enabled, the game takes a very significant performance hit. You can see that the 7800 GTX and GT become borderline-unplayable at 1600x1200, while the rest of the cards' framerates drop off quite abruptly. The X800 GT is only really playable at the absolute lowest resolution, and the X1300 PRO isn't really playable at all. At 37 fps, the 6600 GT does very well at 800x600, and although this is a low resolution by other games' standards, FEAR is still impressive. While 640x480 leaves something to be desired, 800x600 doesn't do a bad job in a pinch. But in a case like the 6600 GT, it is especially desirable to disable soft shadows and go with a higher resolution.