Audio Performance
For audio testing, we used Rightmark 3D Sound CPU utilization test.. This benchmark measures the overhead or CPU utilization required by a codec or hardware audio chip.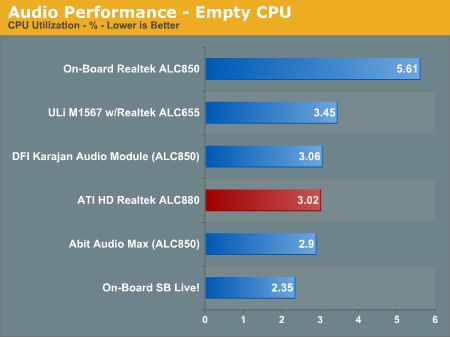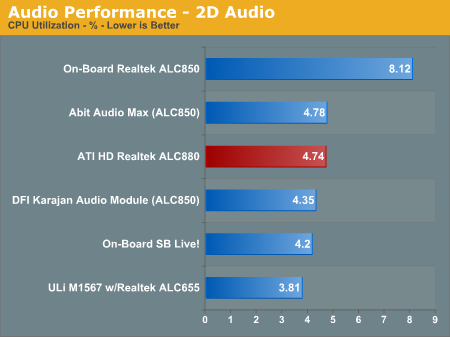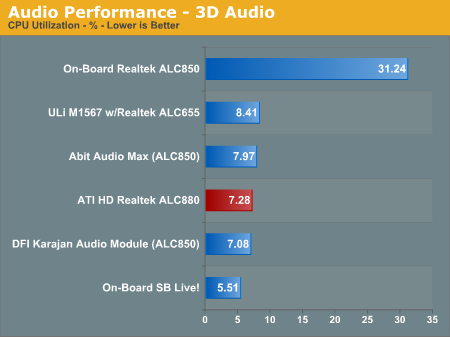 As you can see, none of the onboard audio solutions were quite as low in CPU utilization as the hardware Creative SoundBlaster Live! chip, which is used on the MSI K8N Neo4 Platinum. However, ATI's High Definition Audio turned in an outstanding performance in all 3 utilization tests: Empty CPU, 2D, and 3D. Results for ATI HD Audio were in every case almost as good as the hardware solution.
It is important to point out that the ATI Crossfire AMD is the first Athlon 64 board that we have seen to deliver Azalia High Definition audio. Those who have been complaining about the poor AC'97 audio present on most AMD boards should be very pleased to find Azalia HD on the ATI. While NVIDIA recently introduced their first HD audio solution, it is only targeted at the high end of the micro ATX integrated graphics market. nForce4 SLI motherboards, which will compete directly with ATI Crossfire AMD, do not currently offer High Definition audio.
We did some brief subjective listening tests with the ATI Azalia HD through a Dolby amplifier and a 5.1 speaker setup. The ATI Azalia HD was in a completely different league from the other audio solutions that we have tested on Athlon 64. Noise was virtually non-existent, and the imaging and depth were superb when listening to demanding recordings. The same CD sounded thin, noisy, and artificial through a more common ALC850 fed to the same Dolby amp and 5.1 speakers. This is not to say that the Azalia HD is at the same level as the very best audio cards, but it is a lot closer than we think that many of you imagine.
It is worth noting that ATI has implemented Azalia HD on the Crossfire AMD with the Realtek ALC880 chipset. This makes it easy for manufacturers to add Dolby Digital Live with "D" versions of this chipset, which are pin-compatible. For more information on the HD Realtek ALC880, go to the
Realtek web site
.