GPU Accelerated H.264 Transcode
The two stages of the video pipeline to which Avivo pays particular attention are the encode and decode stages. Of course, with the Theater 550, ATI already offers hardware MPEG-2 based encoding, so that is not really a new feature of the Avivo platform. The more interesting feature is the "VPU assisted transcode" that is now a part of Avivo.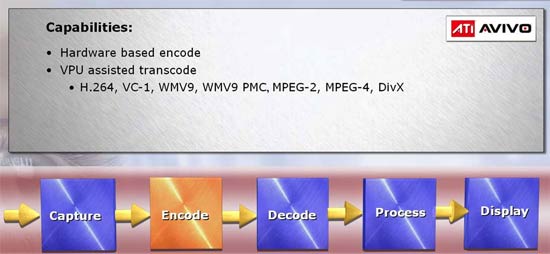 In product terms, the R520, RV530 and RV515 (Radeon X1800, X1600 and X1300 respectively) will all support VPU/GPU assisted transcode to/from any of the following media formats: H.264, VC-1, WMV9, WMV9 PMC, MPEG-2, MPEG-4, DivX. For those of you who are not familiar with the term "transcode", it refers to the re-encoding of video into a different bitrate and/or different format (e.g. going from an MPEG-2 DVD to an H.264 avi file).
All Avivo enabled graphics cards will support this GPU assisted transcode; the only requirement will be that the appropriate Catalyst driver is installed. While ATI is currently planning to release the first of their R5xx GPUs by the end of this month, the transcode acceleration will not be ready by that time. ATI has committed to delivering the transcode acceleration by the end of this year, and more specifically, about a month after the release of the R5xx GPUs. We have no word as to how much of a performance boost you'll see with the GPU assisted transcode, although the largest gains will be going from formats like MPEG-2 to something like H.264. (The reason being that H.264 encoding is incredibly slow using CPU-only encoding right now.)