The Card
The EVGA e-GeForce 7800 GTX looks just like NVIDIA's GeForce 7800 GTX (our reference card) out of the box, with the exception of an EVGA sticker on the heat sink.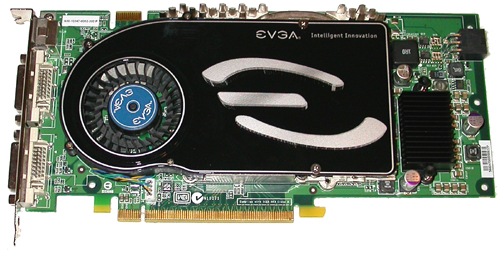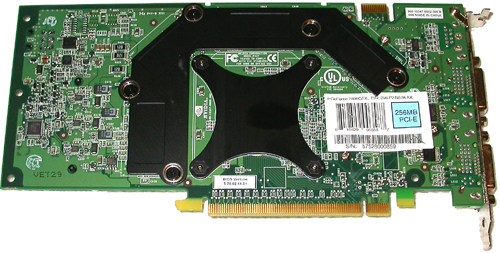 There are not a lot of flashy pictures of CG monsters or women on the box - just the name of the card and a picture of it on the left. Tasteful or boring - depends on your preference. It doesn't come with any games bundled, but odds are that if you're going to be shelling out the cash for this card, you probably already have some games in mind.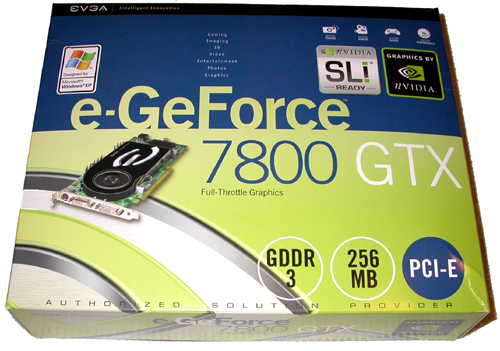 An interesting thing about this card is the fact that it comes factory overclocked. The reference card's core clock speed is set at 430MHz, and this card comes set at 450MHz. This fact alone could give this card the edge over the other 7800's out there. The memory clock speed is set at 1.2GHz for both cards out of the box.
EVGA also released two other variations of this card. One of them has its core clock set at 430MHz, which is the same as NVIDIA's GeForce 7800 GTX ($575 256-p2-n525-ax). The other one ($620 256-p2-n538-ax) is exactly the same as ours
($600 256-p2-n528-ax)
except that it comes bundled with Battlefield 2. This is actually a pretty good deal if you don't have Battlefield 2 yet, as it's only $20 more than the card without the game. The suggested retail price of both the 430MHz and 450MHz cards are actually the same, ($600) but some vendors sell the 430MHz card for less.