New Changes to the V40z
The heart of the new V40z is, of course, the Opteron 875 processors. Since a single 2.6GHz Opteron draws the same power as a dual core 2.2GHz Opteron, the V40z doesn't seem to have too much difficulty with drop in compatibility. In theory at least, a dual core Opteron 875 should have the same power envelope as an Opteron 252 but provides an additional 50-80% performance boost. For more details on the Opteron 875, please check out our earlier article here. Although AMD has some background in 8-way server configurations, it is not nearly as extensive as that of Intel, Sun, IBM or HP. Putting eight cores in a 3U is a huge step forward for AMD (and Sun) and processor scaling is a colossal issue.
Additional cooling is not necessary for the dual core Opteron 875s because they have approximately the same TDP as Opteron 852s.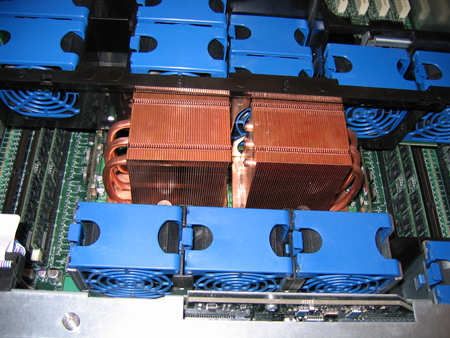 Our previous V40z (Quad Opteron 850) managed to draw 585 watts during peak operation - well within the capability of the redundant 760W power supplies. During peak operation the new V40z with quad Opteron 875s hit 615W during heavy load. This falls in line with AMD and Sun's claim concerning the power consumption.
Aside from the dual core processors, there have been some other changes to the V40z since our last analysis.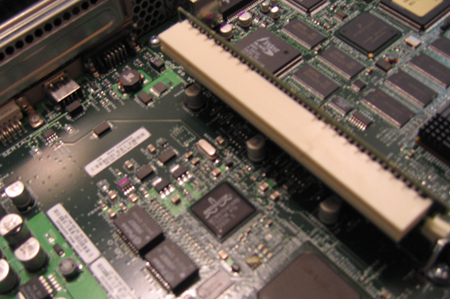 The two Broadcom BCM5703 gigabit controllers in the previous V40z have been replaced with a single BCM5704.
The 800MHz HyperTransport links have been upgraded to full 1GHz HyperTransport links.
The Service Processor now supports IPMI 2.0.
Support for 300GB hard drives has been added to the BIOS.
The new features of the V40z do come at a premium; the base quad dual core systems from Sun start around $38,995 direct from Sun. However, there are incentive programs (including a Xeon trade-in program) that can reduce this cost by up to 15% and other promos running on Sun's webpage. Third party retailers are also selling Sun system at lower prices, but unfortunately the third party retailers do not offer the same support packages.