Abit Discusses their Finances and Future
Abit has been rocked in the last 6 months with unpleasant news about their finances and questions about their future in a very competitive motherboard market. We met with Abit at the end of Computex to discuss frankly their widely reported financial problems and their directions for the near future.
Abit was very frank about the difficulties that they faced when their purchasing was frozen by the investigation into reported irregularities by the Taiwan equivalent of the Stock Exchange. During that difficult period, Abit was forced to do all purchasing on a cash basis, which severely limited their ability to sample and launch new products.
Recent developments, however, bode better for Abit's future. The complaint against Abit has been returned with the recommendation, according to Abit, that there was no evidence found to warrant further actions on the charges brought against Abit. Abit expects all charges against the company to be dropped in the near future.
In addition, Abit now has a new financial partner in Wan Hai Industries. Wan Hai is a huge Chinese containerized shipping company, and they are also a principal investor in China Airlines. As a new principal investor in Abit, Wan Hai has infused new capital and credit lines into the Abit organization.
Abit's new-found confidence about their future was evident everywhere in the extensive range of new products in their booth. This was quite an improvement from the Abit gloom of CES last January.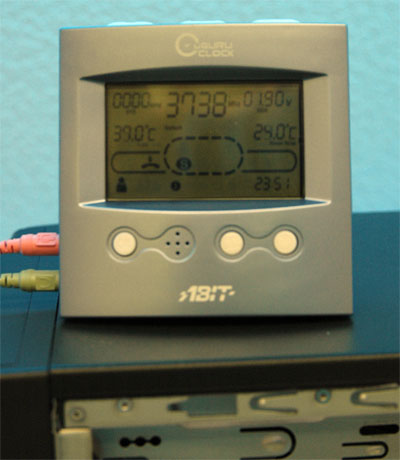 Abit was also displaying the very innovative external uGuru clock, which allows adjustments of just about everything that an enthusiast can imagine...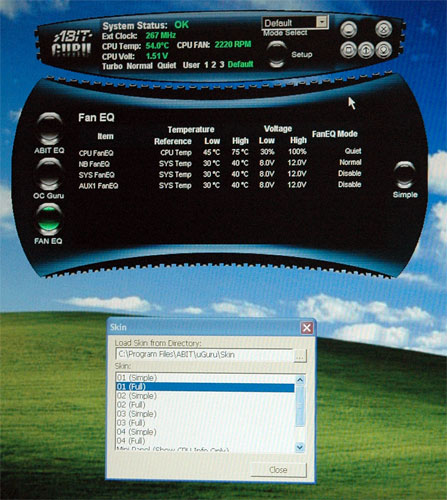 ...combined with a Windows XP uGuru utility that even integrates the popular Skype Voice-Over-IP utility.