Cases
Last year at Computex, BTX was the talk of the town. A year later, BTX didn't have much to offer. As Anand stated yesterday, motherboard manufacturers are downplaying the importance of BTX, claiming that case manufacturers aren't ready for the new standard. Meanwhile, case manufacturers keep telling us that there aren't any retail BTX motherboards, so there is no point in building new BTX cases. Whether or not BTX is really a step forward is still debateable to some, but everyone agrees that it's going to take an outstanding step from AMD or Intel to get these guys to start working together.
ThermalTake
Now that ThermalTake has a few years of experience under their belt, their case designs are really starting to mature a bit. No more are they gaudy cases based on Chenming reference designs; ThermalTake's new stuff is all completely designed in house nowadays – our ThermalTake representative was excited to announce to us that there are over 50 R&D employees in Taiwan alone with the company.
The Taichi is ThermalTake's new flagship design at the show. What makes this a cool case is the fact that it was designed from the ground up to be a watercooling case – the reservoir, piping and waterblock are all integrated into the design. The BTX sign on top of the case is slightly misleading, since this is not a BTX case.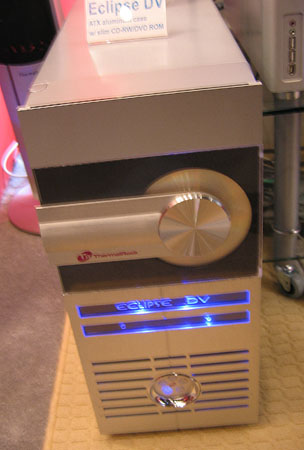 There were also HTPC and new desktop cases on display. The brushed aluminum designs are a step away from ThermalTake's previous directions, but we like it. Lastly, we wanted to mention ThermalTake's reintroduction of the Golden Orb CPU cooler series. Golden Orb II looks strikingly familiar to Zalman's HSF line, but if it's cheap and it works, that's all that matters to us.