Corsair and Asus Reach DDR2-1066
It was clear in our early testing of the Asus P5WD2 Premium that Asus was interested in showing the standout memory performance of their new 955X motherboard. Toward this end, Asus, Corsair and OCZ all worked on low-latency DDR2 memory solutions that would perform well in the P5DW2.
OCZ and Corsair both supplied low-latency DDR2-667 512MB DIMM pairs for benchmarking with the Asus P5WD2 Premium.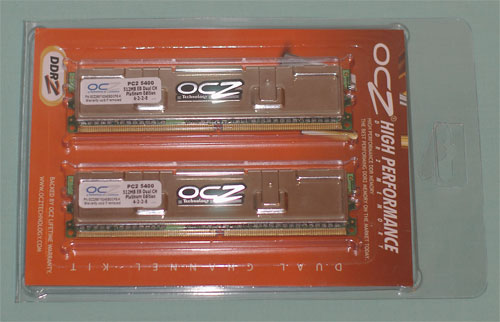 OCZ supplied PC2-5400 512MB EB rated at 4-2-2-8 at DDR2-667.
It was established quickly that both memories could do DDR2-667 at 4-2-2-4 timings on the P5WD2, so we pushed both to DDR2-800. Both ran with complete stability at DDR2-800, at the still aggressive 4-3-2-4 timings. Since neither memory pair had any problem with DDR2-667 or DDR2-800, all benchmarks were run at both memory speeds. DDR2-667 is the rated speed of 955x memory, and DDR2-800 is the next logical speed rating.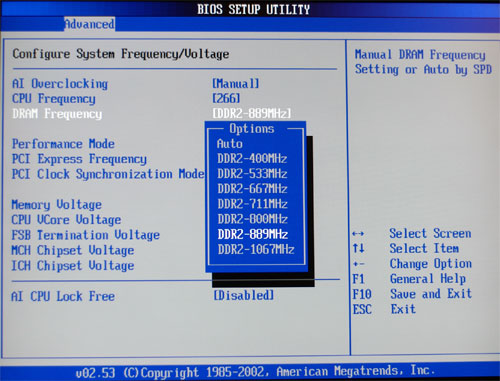 The next memory milestone is DDR2-1066, which is an exact 2:1 ratio with the 3.46EE introduced with the 925XE motherboard (Intel CPU is quad-pumped and memory is Double Data Rate). Intel's Pentium D chips are currently based on 800FSB, but the 955X does support 1066FSB. With this in mind, we mounted an Intel 3.46 Extreme Edition with a 1066 FSB.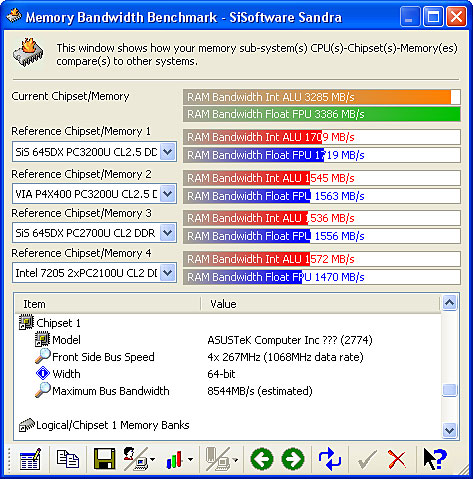 These compromises are reflected in the unbuffered bandwidth of about 3300 to 3400 MB/s. 1066 was the absolute maximum that we could reach and we would not call that speed 100% stable. However, none of these qualifications take away the remarkable DDR2-1066 milestone that Corsair and Asus have achieved.
The OCZ PC2-5400 took a different approach at the top of the performance curve.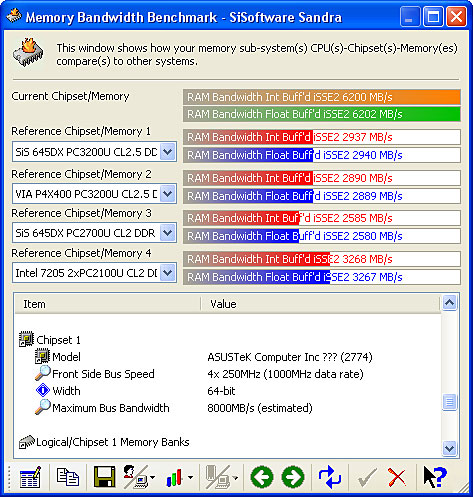 This yielded slightly slower Sandra standard scores at about 6200 MB/sec.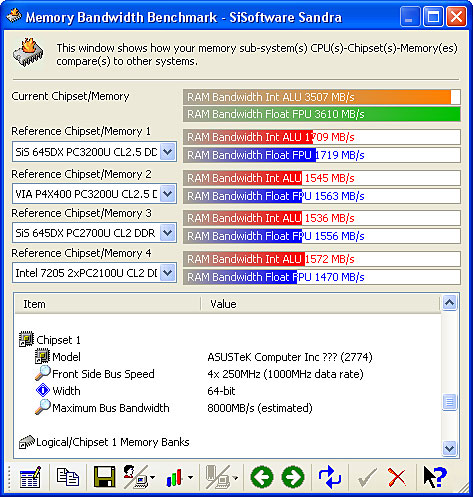 However, the unbuffered Sandra scores were higher than Corsair at 3500 to 3600 MB/sec.
We'll leave it to the memory manufacturers to argue which is better, since performance of the Corsair and OCZ is essentially the same on the new Asus P5DW2 Premium. However, no matter how you view the results, Corsair has earned the title of fastest memory speed in this round at DDR2-1066. There is also the advantage of being able to run the 3.46EE processor at the full rated speed of 1066 FSB with the memory running at 1066.
nForce4 Intel Considerations
The Asus P5ND2-SLI also had no difficulty in reaching DDR2-800 memory performance. However, one of the marketing points made by NVIDIA is the 1T Command Rate that can be used with the nF4 Intel Edition at DDR2-667. The P5ND2-SLI does indeed handle a 1T Command Rate at DDR2-667, but by DDR2-800, a 2T Command Rate was required for stable operation. On the nF4 Intel platform, the performance impact of a 2T Command Rate appears to be rather small, as the nF4 Intel performance remains very competetive with the 955x as far as it goes. However, at just over DDR2-900, the nF4 Intel appears to hit a wall - with the same memories that do DDR2-1000 to DDR2-1066 on the 955x. As a result, we have no screen captures or results to post for the Asus P5ND2-SLI above DDR2-800.