SPEC - Single-Threaded Performance
Single-thread performance of server CPUs usually isn't the most important metric for most scale-out workloads, but there are use-cases such as EDA tools which are pretty much single-thread performance bound.
Power envelopes here usually don't matter, and what is actually the performance factor that comes at play here is simply the boost clocks of the CPUs as well as the IPC improvement, and memory latency of the cores.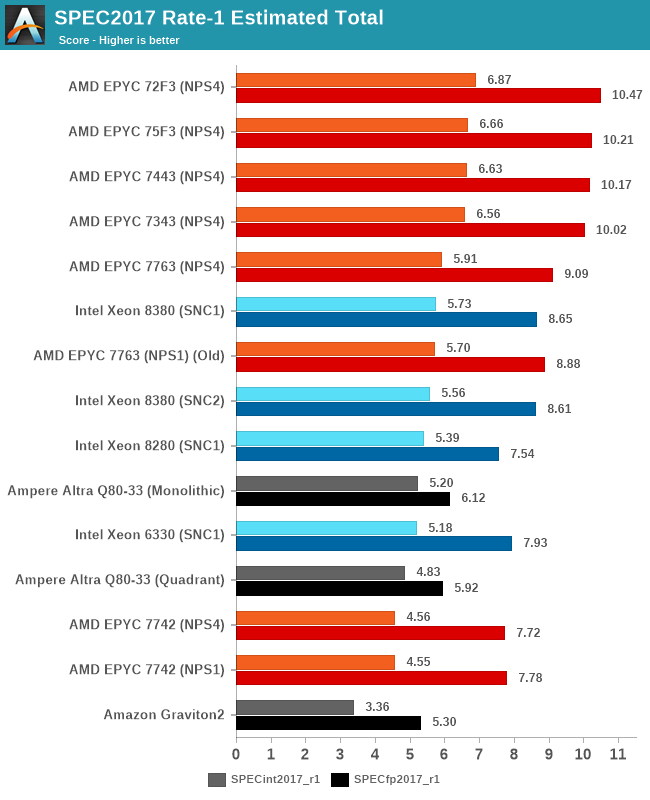 What's interesting in the results is the single-core performance of the 7443 and 7343 tracking extremely close to the frequency-optimised 72F3 and 75F3 parts. Indeed, the actual boost frequencies between the SKUs are quite similar, so there really wasn't any particular reasons why the lower-core "regular" units wouldn't perform similarly to their "core-performance" optimised parts.
It's again notable that unlike Intel's SKUs, going for lower core count parts on AMD EPYC 7003 series actually results in better single-threaded performance, with higher boost frequencies than the large core-count parts.