Battery Life
The Zenfone 8 features a contemporary 4000mAh battery, which considering the size and 169g weight of the phone is actually quite respectable and competes well with other alternatives in the market.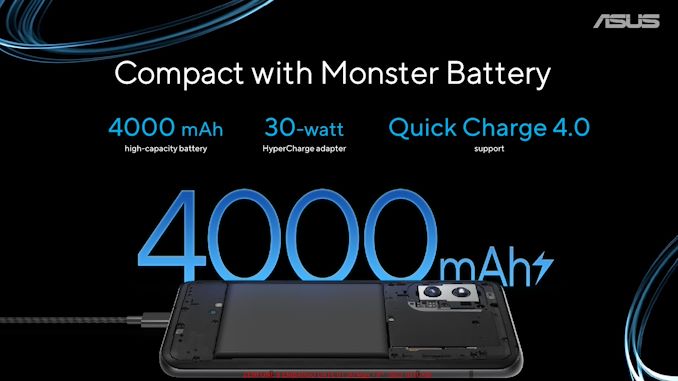 The features that might impact the battery life of the phone are the Snapdragon 888 SoC, less efficient than its predecessor, as well as the 120Hz display which lacks any more advanced power management. The latter aspect of the phone can be quite negative – while the 60Hz mode of the phone has an underperforming base power consumption of 615mW, the 120Hz mode raises this to a rather eye-watering 783mW on a full black screen at minimum brightness.
Anecdotally speaking, I've seen vast power regressions on almost all Snapdragon 888 flagship devices this year, all except for Samsung's S21 Ultra. The Mi 11, Mi 11 Ultra, OnePlus 9 Pro, ROG Phone 5 all exhibit quite bad base power behaviour, and the only difference to the S21 series is that Samsung employs Maxim PMICs and Broadcom WiFi solutions rather than Qualcomm's own chips. I don't know if there's a correlation there or not, but the Zenfone 8 shows similar lacklustre efficiency.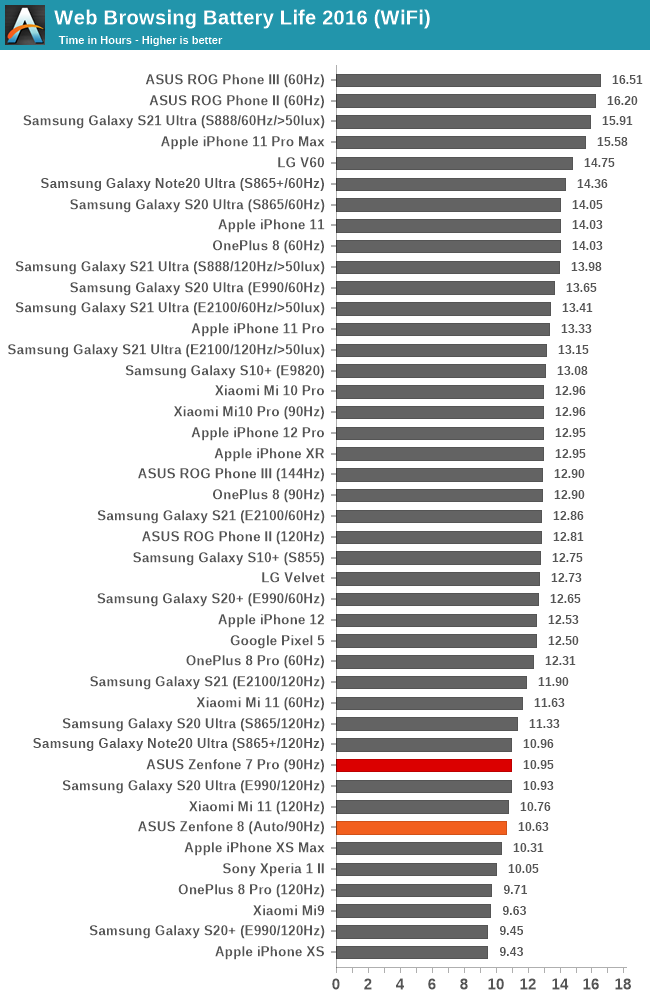 In the web-browsing test in Auto mode which switches to 90Hz inside of the browser, the Zenfone 8 tracks rather closely to the Zenfone 7. The predecessor has a 25% larger battery, but also has a much larger display. The contemporary comparison to make is the smaller Galaxy S21 which lands ahead of the ZF8 even though it runs at 120Hz mode, and far ahead at 60Hz.
I'll be updating the article with fixed 120Hz and 60Hz results for the ZF8 in the coming days.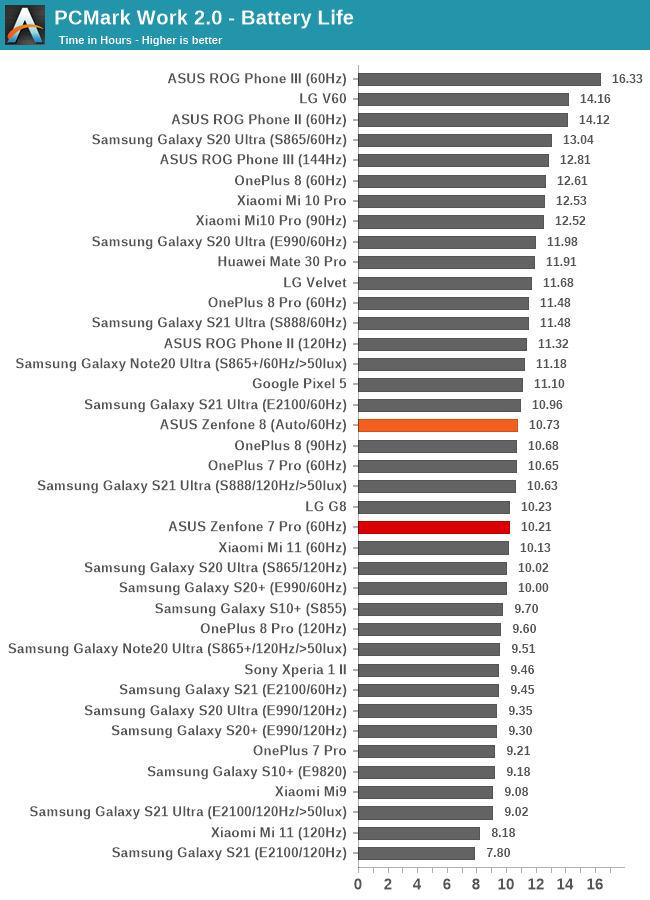 As noted in the performance section, "Auto" mode actually fixes itself to 60Hz in various applications, such as PCMark. The ZF8 here in its best-case scenario lands actually quite well in the relative positioning, meaning battery life in this mode is relatively competitive.
Again, I'll be completing the result set with other refresh rate modes in the comings days.
Generally speaking, the Zenfone 8 finds itself in a tough situation when it comes to battery life. The 90Hz and 120Hz modes are really inefficient due to extremely lacklustre base power consumption behaviours. If you were to use your phone at very high brightness levels, the luminance power would vastly overcome that disadvantage and one probably wouldn't notice the deficit as much, but at lower brightness levels, the phone would last much less than comparative devices.
The conundrum with this situation is that while 60Hz seems to be efficient for the Zenfone 8, it's also not an as quite good experience when it comes to performance and responsiveness. So either you'll have to deal with a responsive and inefficient device, or with an adequate battery life but sluggish feeling phone.