The Neoverse N2 µArch: First Armv9 For Enterprise
Moving from the performance oriented Neoverse V1 to the more balanced Neoverse N2 core, we're seeing a different approach to performance, more akin to the Cortex-A78's PPA focus versus the X1's performance focus.
Arm makes note of the "balance" keyword here – the microarchitecture only adopts features and design changes if those changes actually contribute to an increase of the PPA (Performance, Power, Area) equation of the IP. In contrast, the V1 would opt for performance increasing features even if that meant a disproportionate increase in power and area, reducing the total PPA of the design.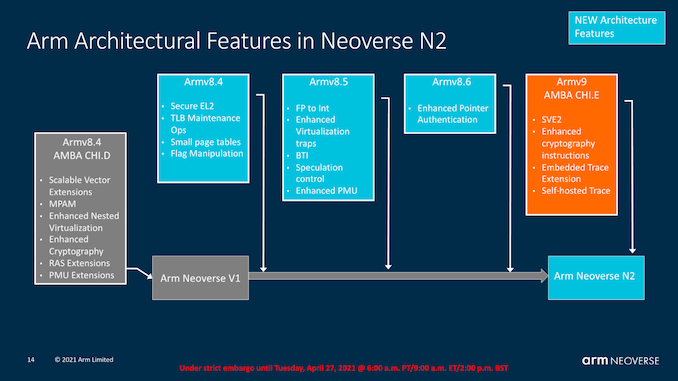 Architecturally, the N2 is a newer core than the V1 and takes a higher architectural baseline as the foundation of its capabilities. It's Arm's first disclosed Armv9 capable core, including important new features such as SVE2. It's to be noted that although Arm talked a lot about Armv9 CCA (Confidential Compute Architecture) last month, the Neoverse N2 core does not feature this capability, which is an extension we're told to expect in future microarchitecture designs.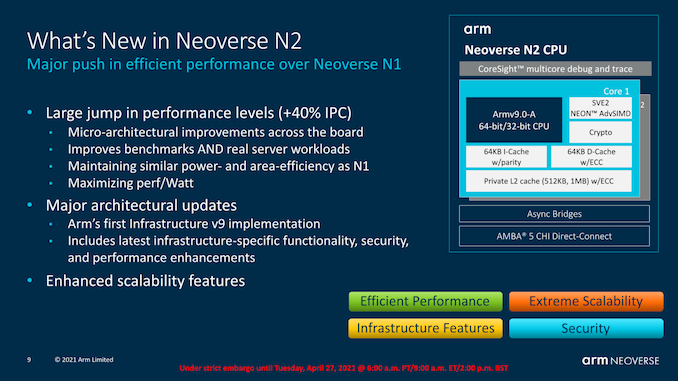 Arm's microarchitectural disclosures on the N2 were rather limited compared to the details we've seen on the V1. This being a sibling core to the yet undisclosed next generation Cortex-A78 successor, we'll have to wait a few more months to see exactly what differentiates this newer iteration compared to the Cortex-A78, besides the notable Armv9 features and new SVE2 pipelines.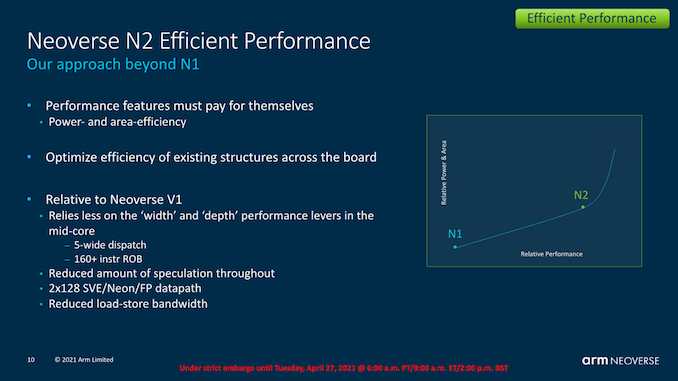 Arm at least confirms that it's a narrower microarchitecture in the sense that there's only a 5-wide dispatch (compared to 8-wide in the V1), and the design features 2x128b native SVE2 and NEON pipelines.
The company states that the new design should still achieve an impressive +40% increase in IPC compared to the Neoverse N1, which is actually substantial given the fact that we're promised only a linear increase in power and area.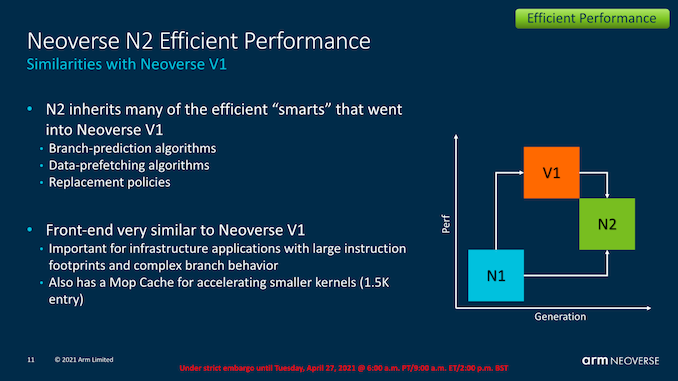 In terms of "smarts", or better said, microarchitectural innovations, the N2 is a super-set of the V1, just with a more conservative approach to block and structure sizes.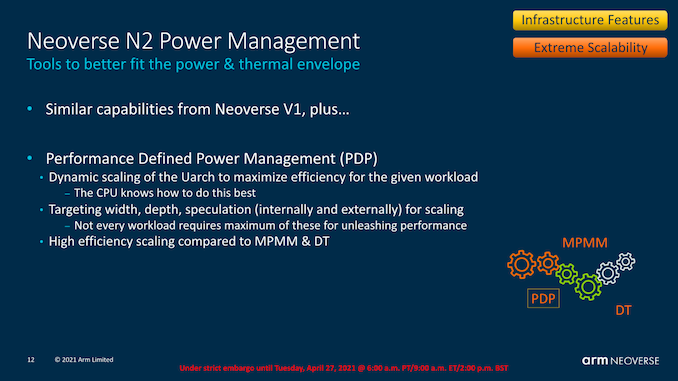 System side features, on top of MPMM and DT, PDP, or Performance Defined Power Management is a feature newer to the N2 that promises to vary the CPU's microarchitectural features depending on workloads, in order to reduce power consumption without impacting performance. I imagine here that we're talking about smarter workload dependent clock-gating of microarchitectural features, for example narrowing of the execution resources in low-IPC workloads.