SATA Controller Performance
Both NVIDIA and Intel offer support for NCQ in their SATA controllers, and given our recently renewed interest in NCQ performance, we decided to find out if there were any performance differences between the two SATA controllers.  However, as we've found in the past, coming up with tests that stress NCQ is quite difficult. Luckily, there is a tool that works perfectly for controlling the type of disk accesses that you want to test: iometer. 
An Intel developed tool, iometer allows you to control the size, randomness and frequency, among other things, of disk accesses, and measure performance using data generated according to these specifications.  Given that NCQ truly optimizes performance when disk accesses are random in nature, we decided to look at how performance varied according to what percentage of the disk accesses were random.  At the same time, we wanted the tests to be modeled on a multitasking desktop system, so we did some investigation by setting up a computer and running through some of our multitasking scenarios on it. 
What we found is that on modern day hard drives, the number of outstanding IOs (IO Queue Depth) is rarely above 10 on even a moderately taxed system.  Only when you approach extremely heavy multitasking loads (heavier than anything that we've ever tested) do you break into queue depths beyond 32.  So, we put together two scenarios, one with a queue depth of 8 and one with a queue depth of 32 - the latter being more of an extreme condition. 
In each scenario, we sent the drives a series of 64KB requests, 75% of which were reads, 25% were writes; once again, derived from monitoring our own desktop usage patterns. 
We then varied the randomness of disk accesses from 0% (e.g. 100% sequential) up to 100% (0% sequential reads/writes).  In theory, the stronger NCQ controllers will show better performance as the percentage of random accesses increases.  We reported both Average IOs per Second and average IO response time (how long accesses took to complete on average):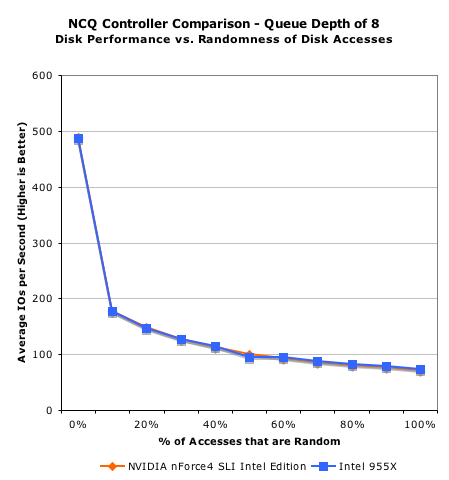 With a queue depth of 8, the two SATA controllers offer virtually identical performance.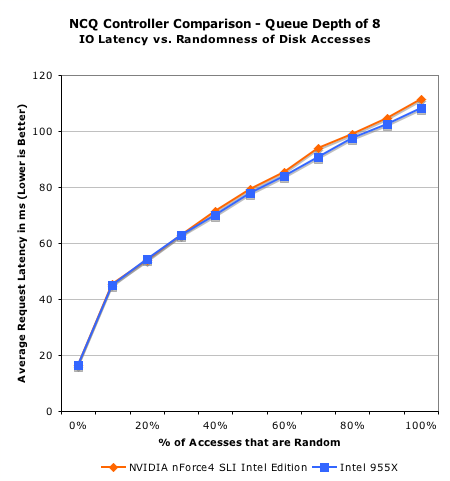 Looking at latency, Intel actually offers a very slight performance advantage here - nothing huge, but it's definitely there.
The results get much more interesting as we increase the queue depth to 32: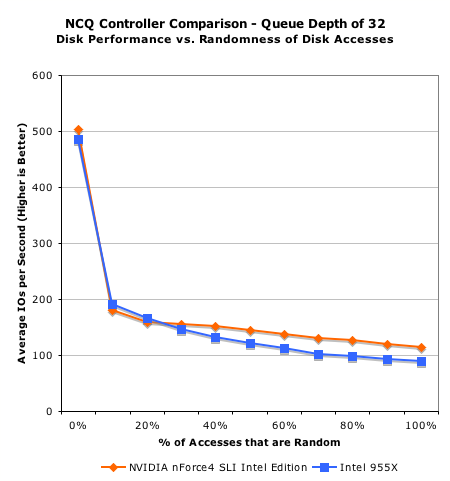 Here, NVIDIA starts to pull away offering close to a 20% increase in average IOs per second as the access patterns get more random (e.g. as more applications running at the same time start loading down the hard disk).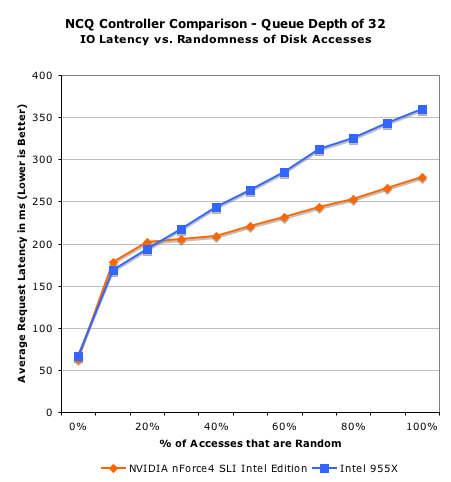 What's truly impressive, however, is the reduction in average response time - up to a 90ms decrease in response time, thanks to NVIDIA's superior NCQ implementation. 
But stepping back into reality, how big of a difference NVIDIA's NCQ implementation makes depends greatly on your usage patterns. Heavy multitaskers that are very IO bound will notice a performance difference, while more casual multitaskers would be hard pressed to find any difference.  For example, Intel was actually faster than NVIDIA in our gaming multitasking scenarios from our dual core investigation.