Conclusions: Faster Than Expected
When I started testing for this review, looking purely at the specification sheet, I was expecting AMD's Threadripper Pro 3995WX to come in just behind the 3990X in most of our testing. The same amount of cores, the same TDP, but slightly lower on frequencies in exchange for double the memory channels and 8x the memory support (also Pro features). More often than not our processor comparisons are usually testing systems with identical memory systems, or we don't consider that memory difference that major in most of our testing. After going through the end data for this review, it would appear that it makes more of a difference than we initially had thought.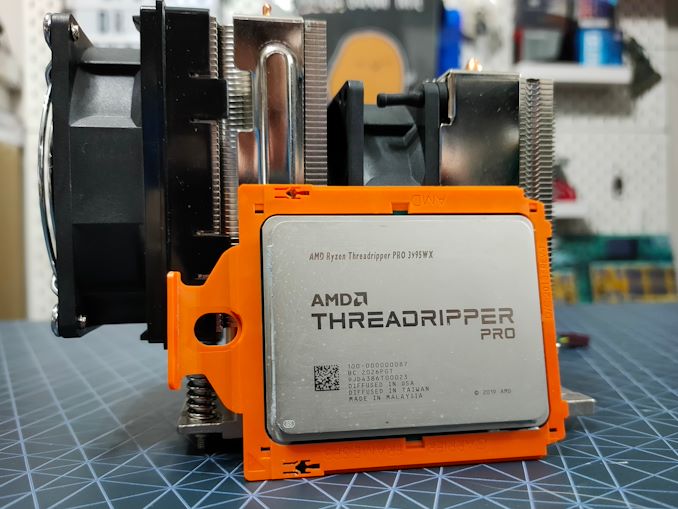 In the tests that matter, most noticeably the 3D rendering tests, we're seeing a 3% speed-up on the Threadripper Pro compared to the regular Threadripper at the same memory frequency and sub-timings. The core frequencies were preferential on the 3990X, but the memory bandwidth of the 3995WX is obviously helping to a small degree, enough to pull ahead in our testing, along with the benefit of having access to 8x of the memory capacity as well as Pro features for proper enterprise-level administration.
The downside of this comparison is the cost: the SEP difference is +$1500, or another 50%, for the Threadripper Pro 3995WX over the regular Threadripper 3990X. With this price increase, you're not really paying +50% for the performance difference (ECC memory also costs a good amount), but the feature set. Threadripper Pro is aimed at the visual effects and rendering market, where holding 3D models in main memory is a key aspect of workflow speed as well as full-scene production. Alongside the memory capacity difference, having double the PCIe 4.0 lanes means more access to offload hardware or additional fast storage, also important tools in the visual effects space. Threadripper Pro falls very much into the bucket of 'if you need it, this is the option to go for'.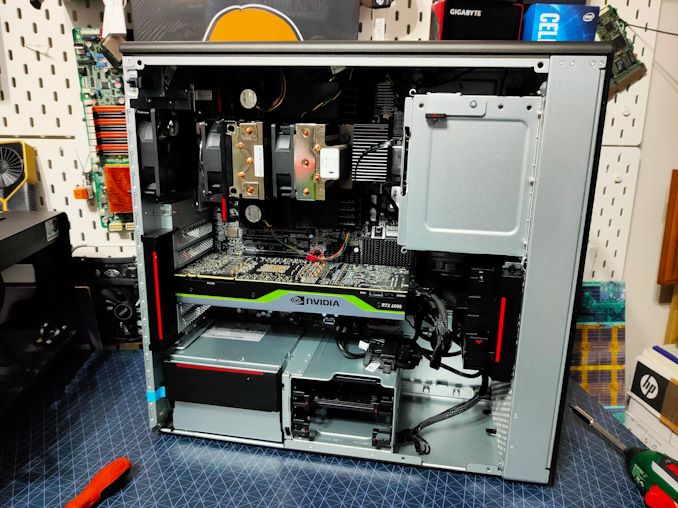 For our testing, we used the Lenovo Thinkstation P620, the first Threadripper Pro system available in the market, and we'll have a full review on it shortly. The Thinkstation Pro systems are always well designed workstations with longevity and professional workloads in mind, enabling 280 W cooling with a fun heatsink but also additional custom DRAM fans, a unique motherboard with an easily removable power supply, and support and space for a number of add-in cards. Lenovo's units, if you buy them individually from the website, are eye-wateringly expensive (+$12200 for the 64-core CPU, a +120% markup), and it is recommended that any design studio that wants to test or order these units should work through a local distributor.
AMD is set to push Threadripper Pro into the consumer and commercial markets beyond Lenovo later this quarter. We have already been in touch with local regional system integrators who are already examining their options based on the three Threadripper Pro motherboards set to be available in the market from ASUS, GIGABYTE, and Supermicro. We are expecting a range of options to be available, and most design studios are likely to order pre-built systems with a variety of air and liquid cooling.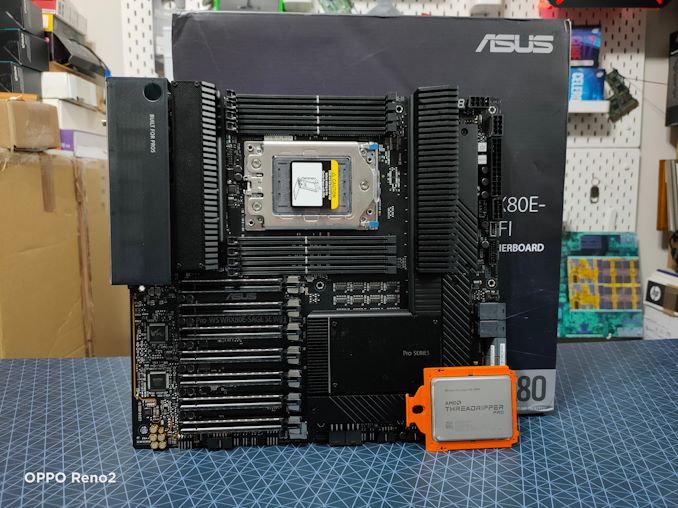 What might confuse a few users is that AMD is launching Threadripper Pro into the major market now, right on the cusp of its next-generation EPYC launch in the next eight weeks. These new EPYC processors should afford a sizeable raw compute upgrade moving to Zen 3 cores, all while Threadripper Pro is on Zen 2. As we saw comparing TR Pro to EPYC in this review, both on Zen 2, in some circumstances it is the push up to 280 W where TR Pro gets the best performance, and a 280 W version of next-generation EPYC might seem more appealing to users looking at TR Pro today. What exactly AMD will launch for EPYC is unknown, whereas TR Pro on this generation is now a known performance factor that system integrators are building on for the workstation market. EPYC never really fit into the workstation market that easily, which is why TR Pro exists today.
We have heard some conflicting dates as to when exactly Threadripper Pro will come to the mass market beyond Lenovo, but they all fall within Q1. We have reached out to AMD in order to source the other processors for our testing.