Sound Impressions
The Mac mini is basically the quietest desktop computer that you can get with a fan.  Unless you put your ear next to the unit, you cannot hear it.  There have been reports that the 1.42GHz models are louder, but we haven't been able to confirm first hand.  From our experience, the 1.25GHz Mac mini is as close to silent as you can get with a hard drive and a fan.  We'd love to post audio clips or SPL readings, but we don't have equipment that can register something that quiet. 
The slot-loading Combo Drive (DVD-ROM/CD-RW) is definitely noisy though, especially when inserting a disc.  Operational noise of the drive is the loudest consistent noise that the mini will emit, but even taking it into consideration, we were quite happy with the mini from a sound perspective.  The $499 mini is quiet enough to be in the living room or bedroom, something that we haven't been able to say about too many manufacturer-built computers. 
A Couple of Surprises: 5400RPM and DDR400
Although it uses desktop memory, the Mac mini uses a 2.5" notebook hard drive.  The base $499 version comes with a 40GB drive and the $599 version comes with a 80GB drive.  What is surprising, however, is that some units appear to come with Seagate's 5400RPM Momentus ST94011A drive, including the unit reviewed here today.  The 5400RPM drive is fairly snappy for a 2.5" drive. It's still much, much slower than a 3.5" desktop drive, but it's a nice surprise to see a 5400RPM drive used in the mini.  We have been getting reports of some units coming with 4200RPM drives, however. Right now, it seems to be a luck of the draw as to which drive you get.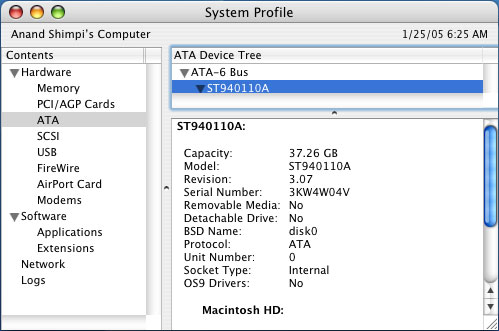 The other surprise was that the memory installed in the mini was in fact CAS 3 DDR400 and not DDR333, as Apple's spec sheet suggests.  Granted, anything above DDR333 does absolutely nothing for the mini as the G4 is FSB limited to the bandwidth of single channel DDR333 SDRAM.