Power
We kind of gave a sneak preview on the front page with our frequency graph, but the short answer as to whether these new Core i9 processors really need 250 W for 10 cores is yes. Intel sent us details on what it has determined should be the recommended settings for its K processor line:
Core i9-10900K: TDP is 125 W, PL2 is 250 W, Tau is 56 seconds
Core i7-10700K: TDP is 125 W, PL2 is 229 W, Tau is 56 seconds
Core i5-10600K: TDP is 125 W, PL2 is 182 W, Tau is 56 seconds
For those not used to these terms, we have the TDP or Thermal Design Power, which is meant to be the long-term sustained power draw of the processor at which Intel guarantees the base frequency of the processor – so in this case, the Core i9-10900K guarantees that with a heavy, long-running workload it will max out at 125 W with a frequency of at least 3.7 GHz (the base frequency).
The PL2 is known as the turbo power limit, which means that while the processor is allowed to turbo, this is the upper power limit that the processor can reach. As mentioned on the first page of this review, the value for PL2 is only a suggested guide, and Intel lets motherboard vendors set this value to whatever they want based on how well the motherboard is designed. Sometimes in laptops we will see this value lower than what Intel recommends for thermal or battery reasons, however on consumer motherboards often this value is as high as it can possibly be.
The final term, Tau, is meant to be a time by which the turbo can happen. In reality the TDP value and the Tau value is multiplied together to give a value for a 'bucket' of energy that the processor can use to turbo with. The bucket is refilled at a continuous rate, but if there is excess energy then the processor can turbo – if the bucket is being emptied at the same rate as it is refilled, then the processor is down at the long-term TDP power limit. Again, this is a value that Intel recommends and does not fix for the vendors, and most consumer motherboards have Tau set to 999 seconds (or the equivalent of infinite time) so the processor can turbo as much as possible.
Note, when we asked Intel about why it doesn't make these hard specifications and how we should test CPUs given that we're somewhat enable to keep any motherboard consistent (it might change between BIOS revisions) for a pure CPU review, the response was to test a good board and a bad board. I think that on some level Intel's engineers don't realize how much Intel's partners abuse the ability to set PL2 and Tau to whatever values they want.
All that aside, we did some extensive power testing on all three of our CPUs across a number of simulation and real-world benchmarks.
Core i9-10900K Power
Through our tests, we saw the Intel Core i9-10900K peak at 254 W during our AVX2-accelerated y-cruncher test. LINPACK and 3DPMavx did not push the processor as hard.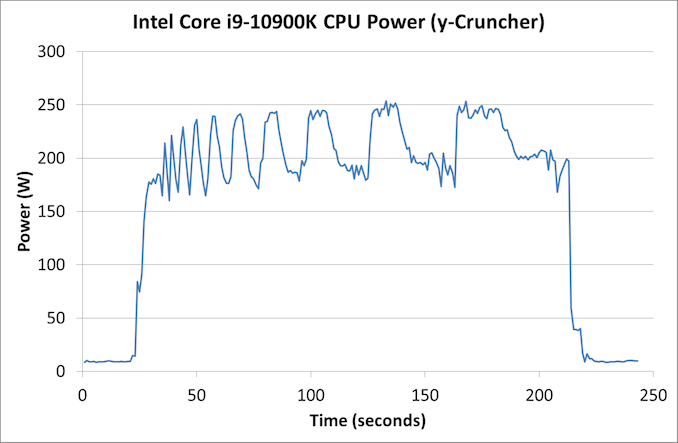 The more real-world tests, AI Benchmark and Photoscan, showed that in a variable operation workload mixing threads, we are more likely to see the 125-150 W range, with spikes up to 200W for specific operations.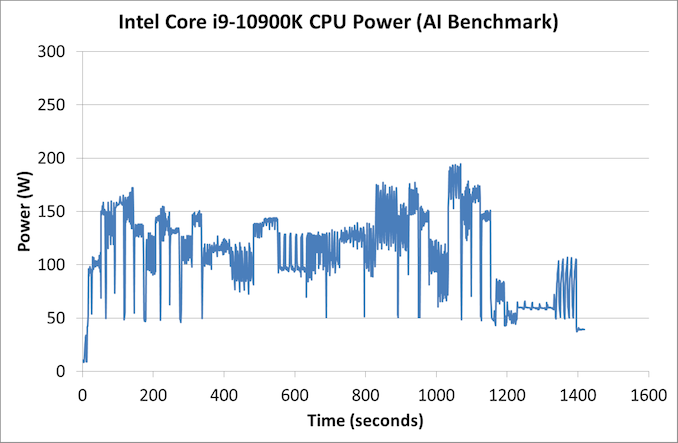 For users interested in the voltage for our Core i9-10900K, we saw the processor peak at 1.34 volts, however even during an AVX2 workload it was nearer to 1.25 volts.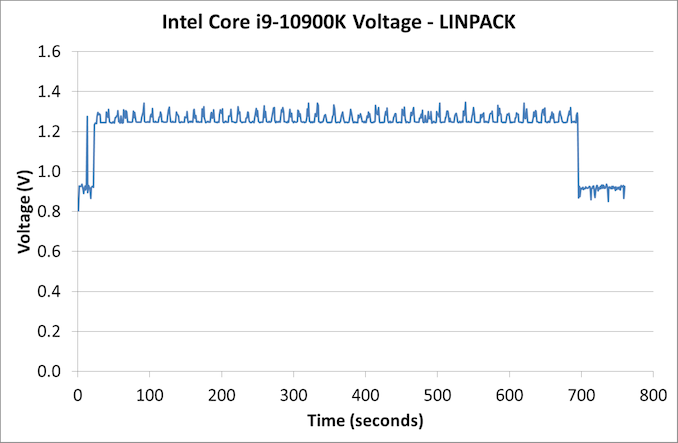 Intel Core i7-10700K
The Intel Core i7-10700K is rated by Intel to have a peak turbo power of 229 W, however our sample peaked at 207 W during y-Cruncher. LINPACK achieved similar results, whereas 3DPMavx was nearer 160 W.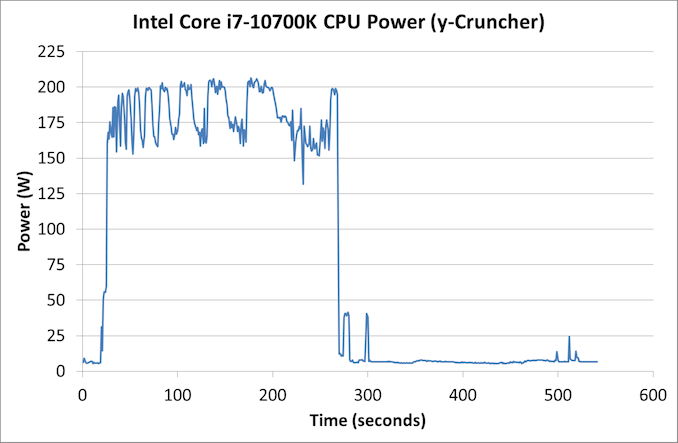 Our AI Benchmark power wrapper failed for the 10700K due to a configuration issue, but the Photoscan 'real world' power test put the processor mostly in the 100-125 W range, peaking just below 150 W in a couple of places.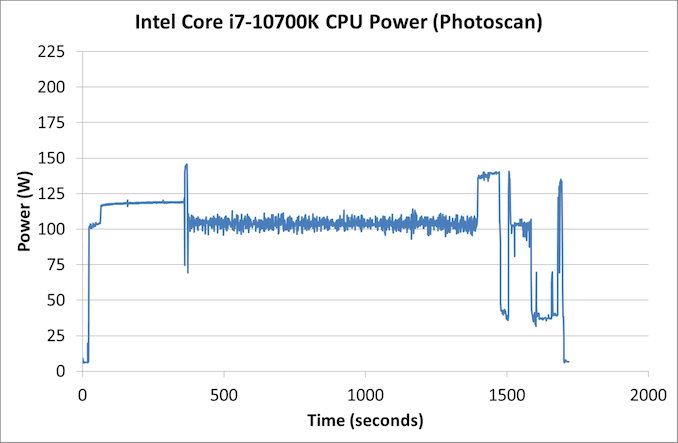 Intel Core i5-10600K
Intel's Core i5-10600K has a recommended PL2 of 182 W, but we observed a peak of 125 W in y-Cruncher and 131 W in LINPACK.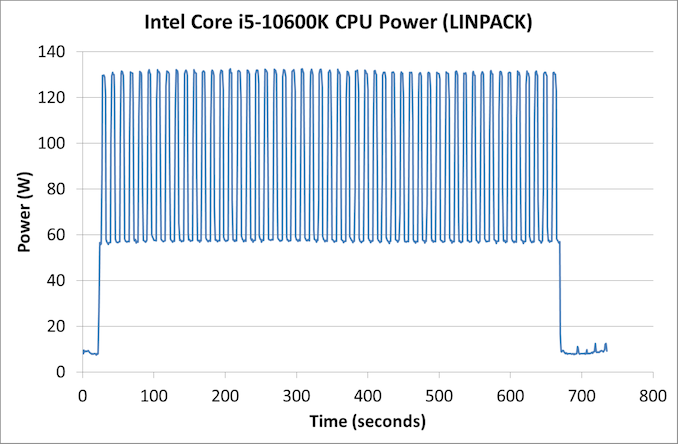 We actually saw our AI Benchmark real-world test hit 130 W as well, while Photoscan was nearer the 60-80 W range for most of the test.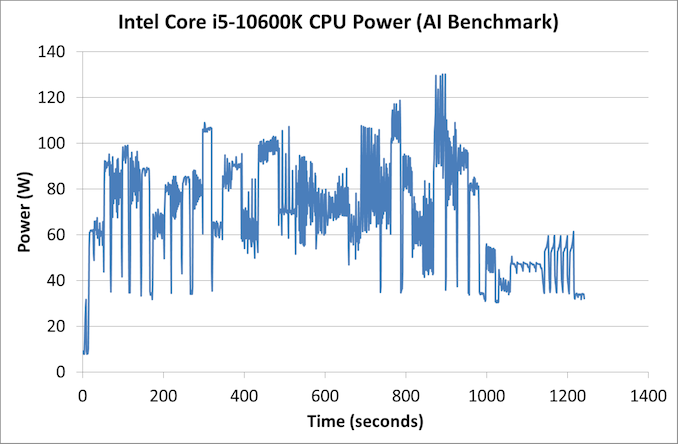 The full set of power graphs can be found here:
In terms of overall peak power consumption, our values look like this: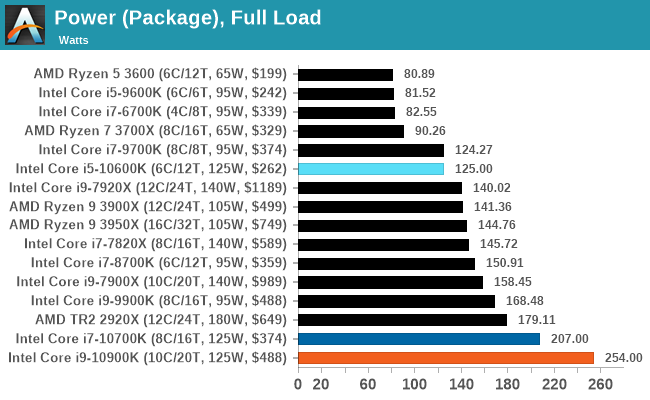 Note, 254 W is quite a lot, and we get 10 cores at 4.9 GHz out of it. By comparison, AMD's 3990X gives 64 cores at 3.2 GHz for 280 W, which goes to show the trade-offs between going wide and going deep. Which one would you rather have?