>Unreal Tournament 2004 32-bit Linux
Unreal Tournament has the unique advantage of being a 64-bit and a 32-bit benchmark. We will use the 3334 demo binaries here - the 3339 demo was installed, but provided no performance benefits. We stayed with the 3334 binaries so that the previous analysis benchmarks were still relevant. Don't forget to check out our previous analysis
here
.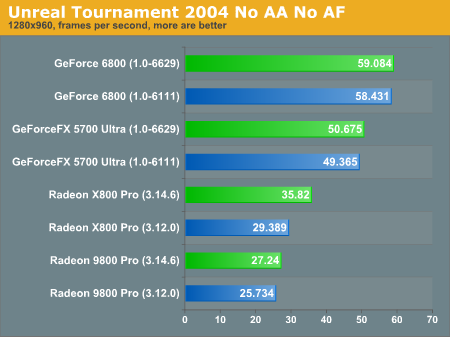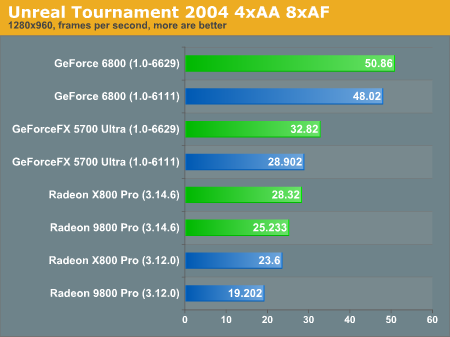 Things pretty much replicate what we saw in the Wolfenstein benchmark - small to moderate performance gains by both cards with ATI looking at a lot of ground to catch up on. Below, you can see a portion of the Unreal Tournament 2004 "assault" benchmark.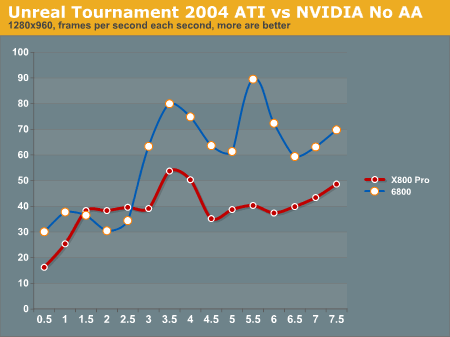 Also, you can see what affect the new driver set had on this same timeframe (the CSV file is available for download
here
.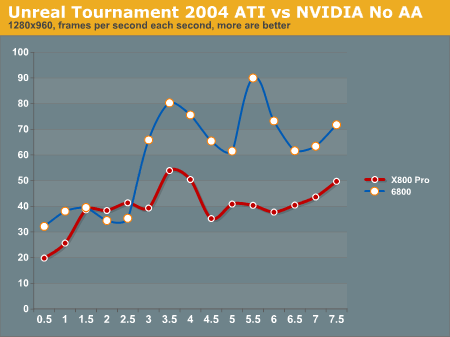 Pay very close attention to the local maxima and minima. Comparing the second graph with the first, and not just the two cards against each other, reveals that both cards received some serious gains in performance without losing a step. NVIDIA's performance is very rapidly approaching the Windows performance, and we wouldn't be surprised if NVIDIA could actually pull off symmetric performance on its Linux and Windows platforms should the next few driver updates provide this sort of a performance gain.
Unreal Tournament 2004 64-bit Linux
As we mentioned before, we are limited to NVIDIA graphics cards for this portion of the test - there are no 64-bit ATI drivers yet. Here is a quick and dirty comparison of the two driver sets on the video cards that we selected for this analysis. The first graph shows the 32-binaries running on the 64-bit kernel. The second graph shows the 64-bit binaries running on the 64-bit kernel.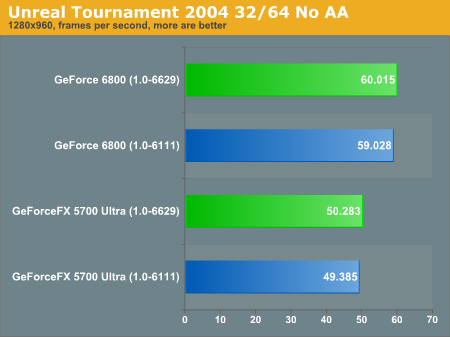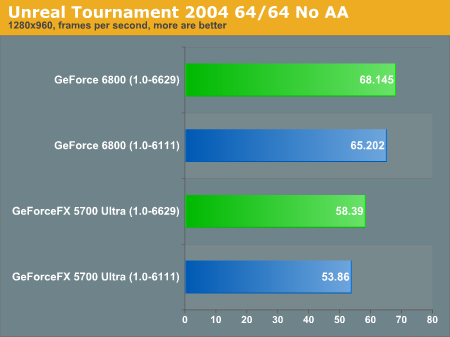 As expected, we noticed virtually no difference between the 32-bit binaries on the 32-bit kernel or 64-bit kernel. We see an occasional single FPS bump on the higher end cards, but there really isn't much advantage to running the 32-bit binaries on the 64-bit world. The 64-bit binaries yield better results, although there is nothing really outstanding about the performance gains going from the 32-bit binaries to the 64 ones, or going from the August driver set to the November one.