Lightning Fast, and CPU Bound
The high performance of cards like the Radeon X850 XT Platinum Edition dictate that, even on today's fastest CPUs, they will be CPU bound at resolutions lower than 1600 x 1200. To prove this we've taken three GPU limited benchmarks, Half Life 2, Doom 3 and Far Cry, and showed their performance scaling vs. resolution using the X850 XT PE on an Athlon 64 4000+: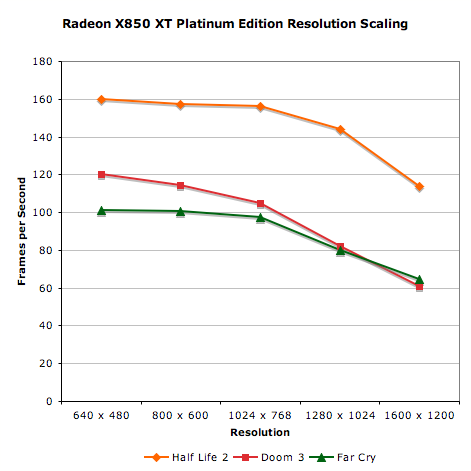 So what does this tell us? It tells us that these high end cards are CPU bound up until 1280 x 1024. It is only at 1280 x 1024 that the X850 XT PE becomes GPU limited and even more so at 1600 x 1200. It's for this reason that we conducted all of our performance tests today at 1600 x 1200.
ASUS nForce4 A8N-SLI Deluxe Motherboard
AMD Athlon 64 4000+
1GB Corsair DDR400

NVIDIA ForceWare 67.02 Drivers
ATI Beta Catalyst Drivers 8.08-041111a-019256E (no Catalyst version has been assigned to this package yet)
Windows XP Service Pack 2 with DirectX 9.0c
All performance tests were run at 1600 x 1200, some benchmarks were also run at 1600 x 1200 with 4X AA and 8X AF enabled.
To continue our recent trend of looking at head to head comparisons between GPUs first and then looking at the broad spectrum of performance we begin by evaluating the impact of each one of ATI's new GPUs individually starting with the flagship, the Radeon X850 XT Platinum Edition.