Web Browsing
Safari is a tabbed browser much like Firefox and its usage is pretty straightforward. I've been a die-hard IE user ever since IE4 and have always appreciated its rendering speed and enjoyed its compatibility with the majority of websites out there. For an IE user, or any user for that matter, Safari is real easy to get used to.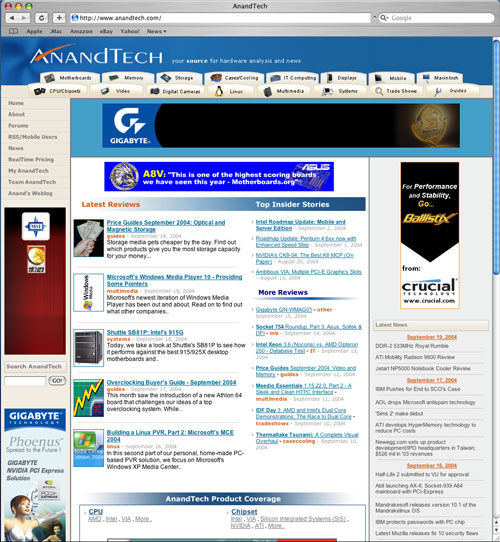 But before I get into the little features that make Safari a good browser, let me address its biggest shortcoming: rendering speed.
Back before Firefox's release on the PC, the one argument that I'd always hear against IE was that it was too slow compared to lesser used browsers such as Opera. Having used Opera, I could hardly tell any performance difference in rendering speed in comparison to IE. It was the lack of any appreciable difference coupled with no real application level benefits over IE that kept me from using it on the PC.
But when comparing Safari rendering speed to IE, the difference is
much more noticeable
. Webpages render instantaneously under IE compared to the multiple second delay that exists under Safari. In order to show the difference, I ran a couple of informal tests:
What we see here is that IE on the PC is consistently a lot faster in rendering webpages than Safari, and although the numbers may seem small themselves, they make the Mac (and actually your internet connection) feel a lot slower when browsing normal web pages. Considering the amount of web browsing that we all do on a regular basis, Safari's rendering performance is nothing short of unacceptable.
One solution would be to use Firefox, which is available for OS X, and in doing so, performance is improved tremendously - although Firefox under OS X continues to be slower than IE on a PC.
The performance problem, although alleviated by Firefox, is still a serious issue since I found that I personally preferred using Safari under OS X over Firefox. Safari feels much more polished and looks much more like the rest of the OS. The other problem with Firefox is that scrolling in Firefox is much less smooth than under Safari, and can get annoying when reading large web pages that require lots of scrolling. The other issue I had was that I couldn't seem to find a keyboard shortcut to switch between tabs in Firefox and for whatever reason, the autocomplete URL keyboard shortcut for a .com URL would never work for me in Firefox. Some can get used to these quirks of Firefox and won't have a problem, but I wasn't one of them.
So, now that we know what Apple needs to improve about Safari, what is so great about this browser?
Built-in pop-up blocking and tabbed browsing support are both must-haves with any current generation browser.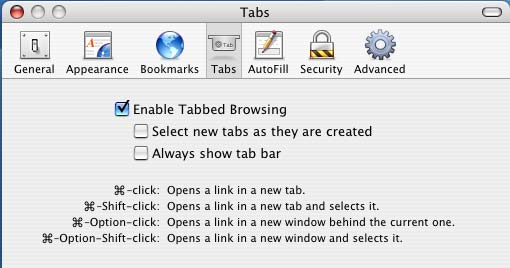 Safari also includes a built-in Google search bar and a download manager; again, nothing revolutionary, but a nice must-have for a web browser.
As with the rest of OS X, keyboard shortcuts are plentiful in Safari. As you would expect, Command-T will open a new tab while Command-N will open a new browser window. There is no auto-complete URL function, unfortunately (e.g. no equivalent to IE's CTRL-Enter). Although, just typing in the URL
sans
www. and .com will eventually find the site that you are looking for after a short lookup delay.
While Safari lacks an autocomplete URL keystroke combination, it does make navigating to a particular directory on a website easier without unnecessary typing. For example, if you want to visit
www.anandtech.com/mac/
, you can simply type in
anandtech/mac
and Safari will fill in the www. and .com for you in the appropriate places. It's not a huge time saver, but it's a nice feature to have.
The IE equivalent for shifting focus to the address bar is Command-L in Safari, which quickly became one of my most frequently used keyboard shortcuts under Safari (much like F2 or CTRL-Tab were for me in IE).
Unlike IE, regardless of how many Safari windows or tabs I have open, there is never any slowdown and definitely no slowdown in spawning new windows - both very important things to me as I tend to have a good number of web browser windows open at any given time.
Website compatibility, for the most part, wasn't an issue with Safari, but there were some definite compatibility issues that required me to have Firefox installed whenever a website wasn't working properly. The issues usually revolved around things like car configurators on car manufacturers' websites, or certain forms not working properly. Everything that didn't work under Safari had worked without a problem under Firefox, but the choppy scrolling under Firefox and lack of an integrated feel resulted in me being a Safari user - one who just had to put up with its shortcomings in terms of speed and compatibility.
When we were redesigning the AnandTech website, I had the pleasure of being the only Safari user on the team and thus, the only one with random weird problems that would crop up during the design phase. It quickly became evident how many Safari incompatibilities can crop up - most developers don't have an OS X box with Safari on which to test their websites. Needless to say, if I hadn't been running Safari at the time, AnandTech wouldn't have been the most Safari-friendly website.
I'd say that Safari is probably the weakest link in Apple's OS X package, and it's one that they absolutely need to fix. After all, you can argue that not everyone games, but when a $300 eMachines computer browses the web faster than a $3000 Powermac, it's time for an updated web browser.
Internet Explorer for the Mac is basically a piece of garbage. It looks like an old version of Netscape, it is horribly slow and it is nothing like the Windows version of IE. For me, Safari was the web browser of choice under OS X, with the occasional launch of Firefox whenever there was a compatibility issue. With the latest preview release of Firefox, the situation has been much improved for OS X browsing, but the OS still lacks a truly solid browser, which is very important in my book.