Compiling Benchmarks
We get a lot of requests to show some compiling benchmarks. Those playing Gentoo at home should be paying particular attention to this portion of the benchmark. We took the standard Linux 2.6.4 release from kernel.org and compiled it under our 32-bit test bed. We did not cross-platform compile for simplicity, so we are only looking at the 32-bit vanilla kernel. We used the commands as below.
# yes "" | make config
# time make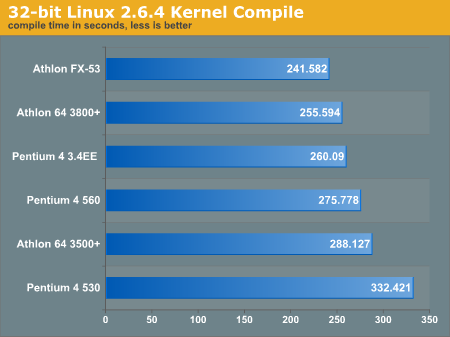 We are greeted with a nice slow performance curve. We have the slower 3.4GHz P4EE overtake its faster 90nm counterpart on several occasions now - a definite trend has set in. Below, you can see how the Intel processors favored when we enabled HyperThreading.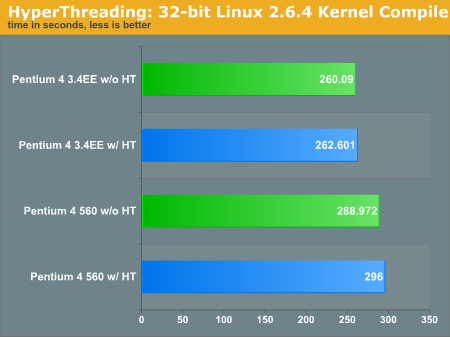 Keep in mind
make
is not actually threading, we are just determining what kind of a performance hit occurs by enabling the two virtual processors rather than keeping just one active. Obviously running two applications at once will receive performance benefits. The unfortunate fact remains that workstation software continues to remain largely linear. We receive some benfiit by running multiple applications at the same time, like rendering a file and playing an MP3, but there are very few Linux workstation programs that fully utilize multiple threads. Fortunately, we have an article coming up that deals with just how to receive the best performance out of multiple threads (and HyperThreading/SMP configurations) in the works.
We two additional tests with the Prescott processors calculating the time to make the kernel while forcing make to run parallel jobs.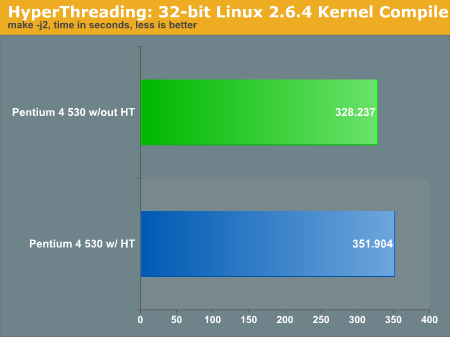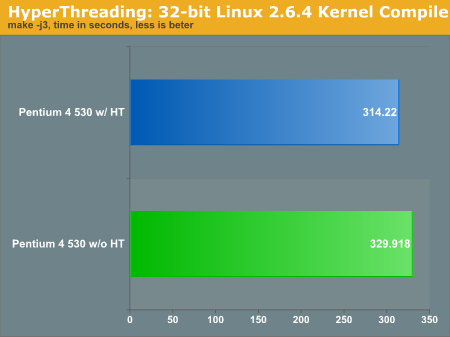 It is very easy to use make -j* incorrectly. There are small perecentage gains by using
make -j3
over
make -j2
using HyperThreading.