Thermal Resistance VS Sound Pressure Level
During our thermal resistance vs. sound pressure level test, we maintain a steady 100W thermal load and assess the overall performance of the coolers by taking multiple temperature and sound pressure level readings within the operating range of the stock cooling fans. The result is a graph that depicts the absolute thermal resistance of the cooler in comparison to the noise generated. For both the sound pressure level and absolute thermal resistance readings, lower figures are better.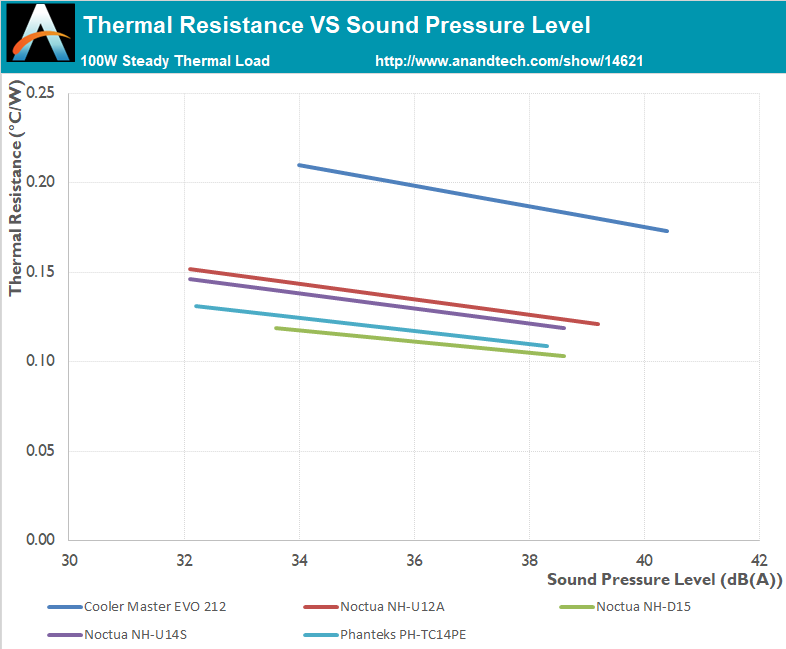 Expectedly, the performance chart of the Noctua NH-U12A lands right above that of its larger counterpart, the Noctua NH-U14S. The difference is very small (practically negligible), confirming Noctua's claims that the NH-U12A can compete head-to-head with performance-oriented 140 mm fan coolers. For example, NH-U12A's performance advantage over a popular and significantly lower-priced tower cooler, the Cooler Master Evo 212, is momentous, partially justifying the retail price difference between the two products.