John The Ripper
We used John the Ripper (JTR) 1.6.37 as a loose benchmark of encryption/hashing. The 1.6 "stable" branch for JTR is actually very dated, so we used the much more updated 1.6.37 tree instead. There are fewer hand coded ASM routines in the 1.6.37 release which allows us to better directly compare our processors.
Just like the chess benchmarks from before, we used four different configurations to compile JTR. The first configuration is identical to "make linux-x86-any-elf" target.
Configuration 1.) -O2
Configuration 2.) -O3
Configuration 3.) -O2 -march
Configuration 4.) -O3 -march
Obviously, we used the athlon arch flag for the Athlon XP processor and k8 for the Athlon 64.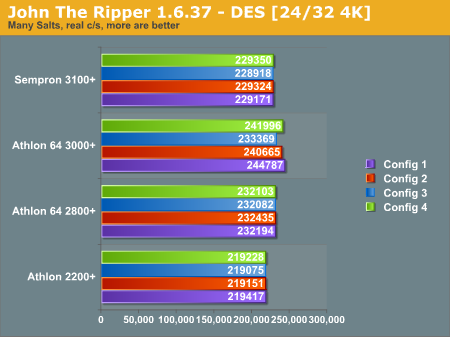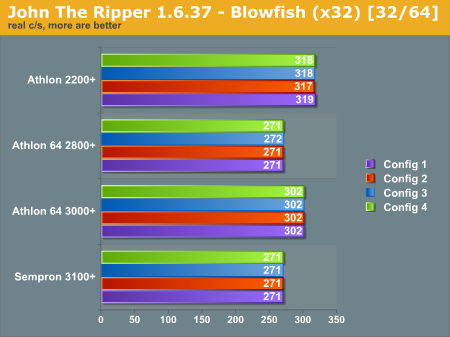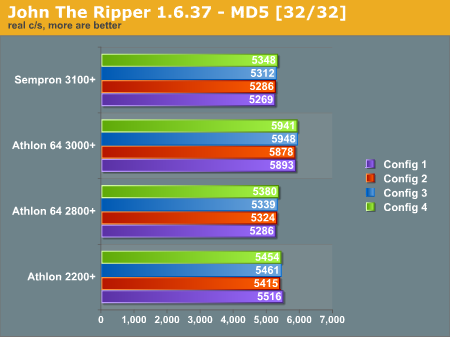 It is likely that JTR uses some optimized ASM code for the Athlon XP, which is why we see such good marks for a two year old CPU.
OpenSSL
The most comprehensive OpenSSL "speed" benchmarks can be downloaded as separate text files (Athlon 2200+, Athlon 64 3000+, Sempron 3100+) but we also provided some graphical mappings below.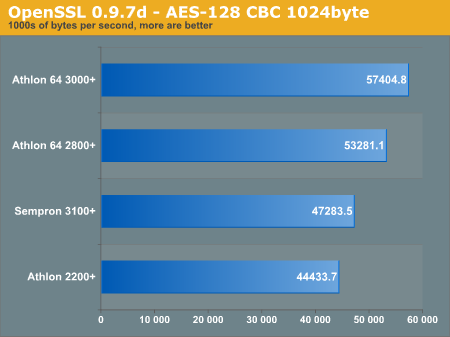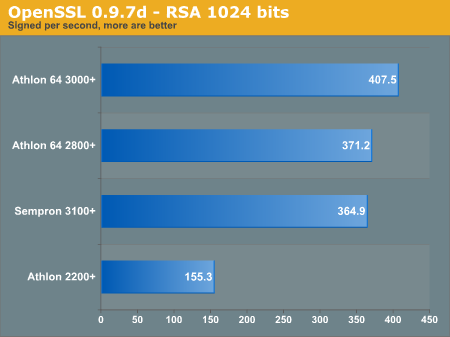 The AES speed test scales very well across AMD's budget computing line, and we really see the additional L2 cache increasing thoroughput. However, we go down one graph to see that signing RSA keys had very little performance increase with the 512KB L2 cache.