Final Words
There's little doubt the Acer Predator Triton 500 sits at the top of Acer's 15.6-inch gaming product lineup. It offers a lot of great design features, impressive hardware, and a top-notch display. As with any premium gaming system, that generally comes with a high price, but Acer continues to offer more for the money as well.
The all-aluminum chassis is simply wonderful. Acer has hit all of the correct notes in the design, offering a thin, portable laptop that offers a premium feel, without going overboard on the gamer aesthetics. Other than the Predator logo on the back, the Triton 500 is a very understated design, and I think that is going to be appreciated by a lot of potential buyers. Acer has also gone all-in on the thin-bezel look, making the laptop look modern and elegant.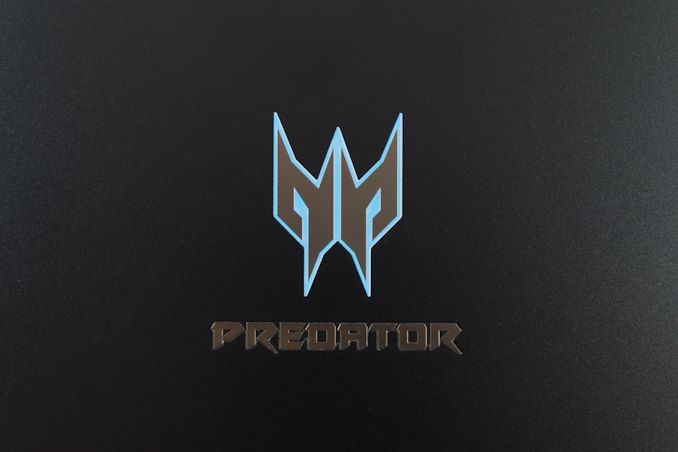 There's plenty of performance available from the Core i7-8750H, offering six cores and twelve threads. Intel has recently updated to 9th generation H series, and Acer will likely move to these at some point, but they are just a frequency bump over the Coffee Lake based CPU used in this unit. There's also two SODIMM slots, offering up to 32 GB of DDR4 RAM from the factory.
On the GPU side, Acer offers both the GeForce RTX 2060 and RTX 2080 Max-Q GPUs. So for those on a tighter budget you can still get this premium design with the 2060, and for those after the most performance, the RTX 2080 is currently king of the hill. As we saw, it offers great performance, and although the lower TDP limits and cooling afforded by the thin laptop allow the RTX 2080 to surpass a DTR-class GTX 1080 laptop, it certainly wins on performance per watt.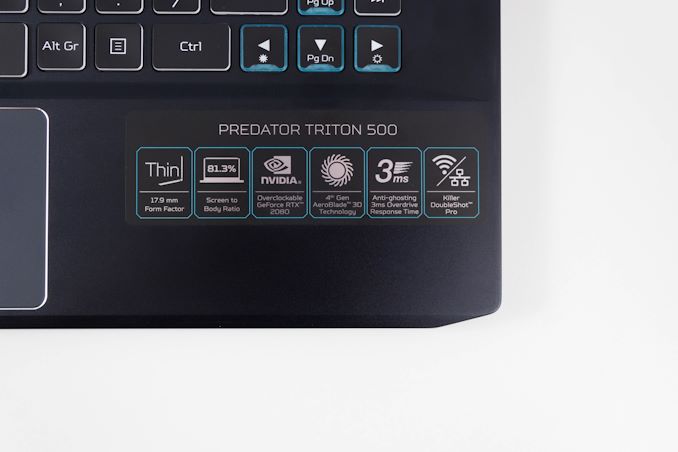 There's plenty of I/O, including a Thunderbolt 3 port, HDMI, and mini DisplayPort, as expected in a gaming laptop. The unfortunate part of the design though is that all of the connectors are about mid-way on the sides, so if you do want to leave devices connected, the cable management isn't as nice as laptops that offer ports towards a corner, or even having the ports closer to the corner but still on the side. It's a small quibble, but noteworthy.
One of the stars of the show is the 1920x1080 IPS display, offering a 144 Hz refresh rate with G-SYNC. Gaming on this system, especially with the RTX 2080 which can offer some serious framerates at this resolution, is amazing. There are going to be people wishing for a UHD display option, but unfortunately for gaming, it just isn't the best answer. Even the desktop RTX 2080 can struggle with UHD gaming unless you want to turn the visuals down, and high-resolution panels tend to be stuck at 60 Hz. Gaming on this display is so incredibly smooth that it's hard to go back to 60 Hz after. It's great that Acer kept with IPS as well, when many gaming laptops still utilize TN displays for their high-refresh rate options. We've got some great panels on the market now though, especially at this 15.6-inch size.
Acer also offers an option to disable G-SYNC and enable Optimus, if you are not gaming and need extended battery life. The increase in runtime is significant, and although the switch does require a reboot, giving the customer the option of G-SYNC or Optimus is a big advantage for this system.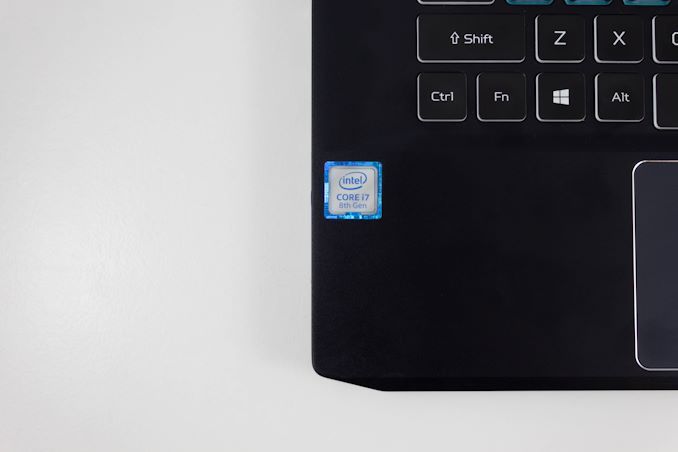 They keyboard and trackpad are both excellent. If there was a negative here it would be that Acer only offers three zones of backlighting, when the competition in this space often offers per-key RGB. And while it may sound like a silly thing, it's actually quite handy to be able to tie specific keys to a specific color, even if you're not gaming. Maybe you use PrtScrn a lot (ed: guilty) and want it to stand out. Offering just three zones of backlighting really means you basically have only one zone, since it always looks a bit silly to mix and match the zones.
Despite the thin design, the Predator Triton 500 can cool it's beefy CPU and GPU quite well, although to do that the most effectively, the noise levels do get very loud. This is the major downside of any thin and light gaming laptop. They just can't fit large enough fans to move a lot of air without generating a lot of noise, but the downside of a 10-12 lbs desktop replacement laptop is that it is luggable, but not portable; whereas the Triton 500, coming in at just 4.6 lbs, is very easy to move around.

Also, Acer, please stop installing bloatware on a $3000 laptop. The Acer utilities are useful and well-designed, but the extra trialware and spam isn't exactly endearing for end users.
Acer's pricing is also in-line with competitors. Starting at $1799.99 for the base model with a RTX 2060, and pairing that with a 512 GB SSD and 16 GB of RAM, is a good price for a premium gaming system like this. Even the very top-end model at $2999.99 offers more bang for the buck than many of its competitors, including 1 TB of SSD storage and 32 GB of RAM. You'll never confuse this with being inexpensive, but it does fall in-line with the competition.
The Acer Predator Triton 500 is a well-built, well-designed, and attractive looking gaming laptop. Acer has really delivered, offering RTX grunt in a thin and light package. Add in the silky-smooth G-SYNC display, and you have some gaming goodness here.