GIGABYTE X570 Aorus Xtreme
Moving onto GIGABYTE's launch day X570 product stack, and it seems to have upped the ante in a number of areas over the previous X470 generation of motherboards. Firstly, GIGABYTE has done a slightly different approach with its power delivery configurations; on paper, they look much higher spec than on previous AM4 models. One prime example of this is in the GIGABYTE X570 Aorus Xtreme which as it stands, is the brand's current flagship model, and is feature-packed with numerous premium componentry, as well as a beefy 16-phase power delivery for the CPU. The other unique feature for the X570 Aorus Xtreme is it's currently the only X570 model at launch to passively cool the warm running X570 chipset.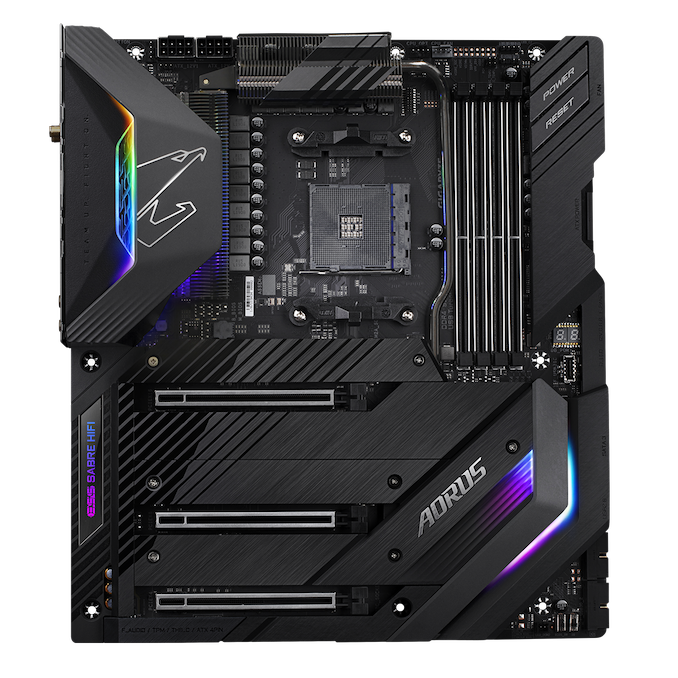 The X570 Aorus Xtreme is the current flagship from GIGABYTE with a large looking 16-phase power delivery for users looking to overclock the latest Ryzen 3000 series processors, as well as a solid high-end feature set. Across the majority of the PCB, we get Aorus themed armor with three PCIe 4.0 x4 M.2 slots each with its own heatsink which moulds into the PCB cover. There are also six SATA ports with support for RAID 0, 1 and 10 arrays. The CPU VCore section of the power delivery uses two 8-pin 12 V CPU power inputs to deliver power to the processor.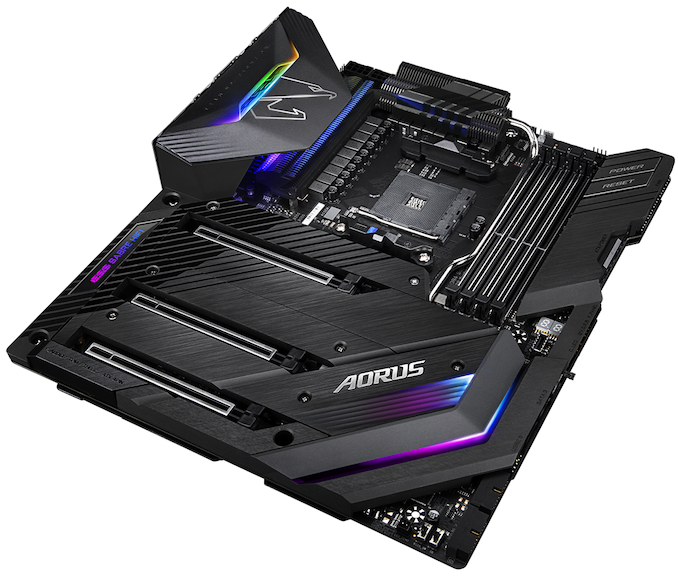 The chipset heatsink onboard the X570 Aorus Xtreme is also one of the only models so far that relies on passive cooling which is interesting as we know the X570 chipset will run with two variants, an 11 W and 15 W. On the rear panel cover is an Aorus Falcon design, with multiple areas with RGB LEDs that users can customize with the Aorus RGB Fusion software. In the top right-hand corner is a power and reset switch, with a small debug LED, and front panel USB 3.1 G2 Type-C port. There are three full-length PCIe 4.0 slots with no PCIe 4.0 x1 slots featured on this model. One of the aspects GIGABYTE is known for focusing on with its high-end models is the onboard audio solution. Adding to the implementation of a Realtek ALC1220 HD audio codec is an ESS Sabre 9218 DAC, with WIMA audio capacitors.

On the rear panel is a large number of inputs and outputs which includes five USB 3.1 G2 Type-A, one USB 3.1 G2 Type-C, two USB 3.1 G1 Type-A, and four USB 2.0 ports. There are two antenna connectors for the integrated Intel AX200 Wi-Fi 6 802.11ax wireless interface, as well as two Ethernet ports which are powered by an Aquantia AQC107 10 G, and Intel I211-AT Gigabit NIC pairing. The Realtek ALC1220-VB HD audio codec adds five 3.5 mm audio jacks and an S/PDIF optical output. Also featured is a clear CMOS switch and Q-Flash Plus BIOS flashing button.
The GIGABYTE X570 Aorus Xtreme is a fine example of what vendors can do for its flagship models on the X570 chipset with plenty of USB 3.1 G2 ports on the rear panel. Dual networking with a 10 G NIC, Wi-Fi 6 capability, and 16-phase power delivery for the CPU make the X570 Aorus Xtreme very attractive. This model has an MSRP of $699 which represents the top end of the X570 product stack at launch, but with everything on offer, it was always expected to be expensive.