The Test
Frey's supplied us with the
SageTV Multi-Tuner "Blackbird" Bundle w/ Remote
, priced at $256.95, which consists of two Hauppauge Roslyn WinTV PVR cards, SageTV 2.0, SageTV Client 2.0, SageTV Recorder 2.0, and a StreamZap remote. We aren't exactly sure where the Roslyn card fits in with the rest of the WinTV PVR cards by Hauppauge, since it isn't presented as one of their consumer products, which means that it is likely an OEM solution.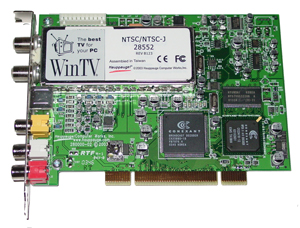 Roslyn PVR card
Click to enlarge.
So far as we can tell, it is basically identical to the WinTV-PVR-250BTV, an off-shoot of the WinTV-PVR-250 card for SnapStream's Beyond TV. Both closely resembles the WinTV-PVR-250MCE and seem to be an OEM/noncompliant MCE version of the WinTV-PVR-250MCE card. Whether or not the WinTV-PVR-250BTV and Roslyn WinTV card use different ASIC IDs, we don't know. The only significance in mentioning this is that the drivers for both cards can't be downloaded off Hauppauge's support site.
Since it looks like we are going to be doing multimedia networking stuff for a while to come, we have standardized our multimedia network with D-Link LAN, 802.11b and 802.11g equipment, which consists of:
DI-624 2.4GHz 802.11b/802.11g Router
DGS-1008D Gigabit Switch
DCF-660W 2.4GHz Wireless CompactFlash Card
DWL-122 2.4GHz 802.11b Wireless USB adapter
DWL-120+ 2.4GHz 802.11b Wireless USB adapter
DWL-G120 2.4GHz 802.11g Wireless USB 2.0 adapter
DWL-G650 2.4GHz 802.11g Wireless Cardbus adapter
Our test system for SnapStream's Beyond TV 3 ended up being the Asus P4R800-VM with a Pentium 4 at 3.0C GHz, 1GB of Kingston HyperX PC4000 RAM, ATI All-in-Wonder 9600, and a Seagate Barracuda 7200.7 120GB hard drive.