Battery Life
Despite being a large laptop, weighing almost six pounds and being over 1-inch thick, the Acer Nitro 5 has just a 47 Wh battery inside, which is less than many Ultrabooks. As a gaming laptop though, its primary place of use is going to be on a desk, so this is likely a good place for Acer to save on the bill of materials. However, we've already seen a few times that AMD's Ryzen mobile processor has some issues with high idle power consumption, so coupled with a small battery, expectations for great battery life are low.
2013 Light Battery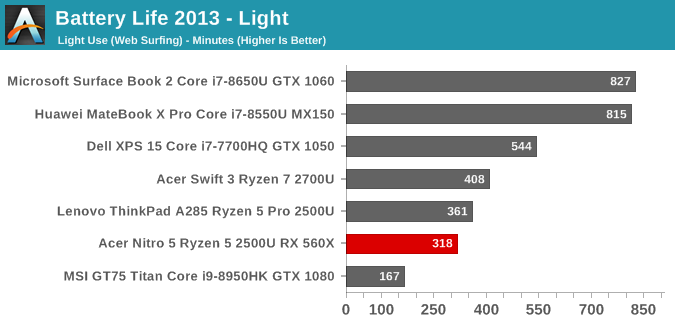 Our oldest test is also the lightest test, and it just consists of opening four web pages per minute. For most modern machines, this is a pretty simple task, and the device sits idle for most of the time. As expected, the Nitro 5 doesn't fare well here.
2016 Web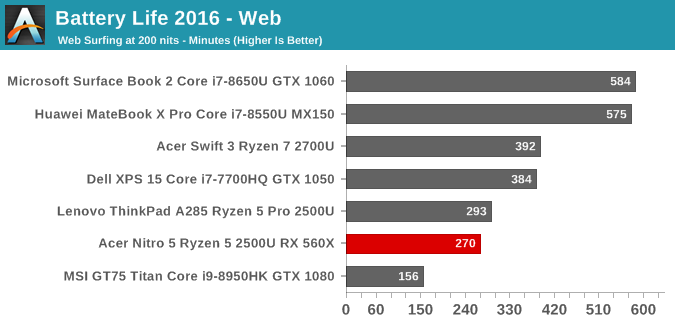 Our newer battery life test is much more demanding, and generally knocks quite a bit of time off the light test. At 4.5 hours, the result isn't great, but considering this is a gaming laptop, it's actually pretty good.
Movie Playback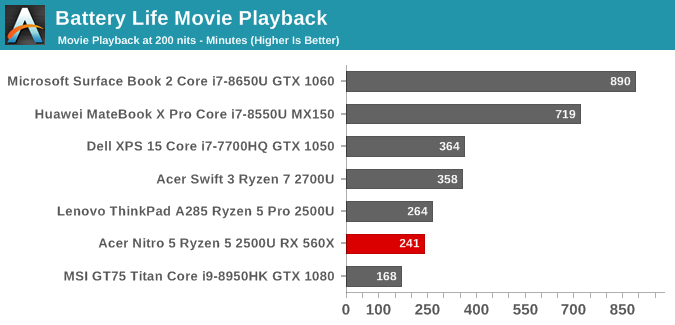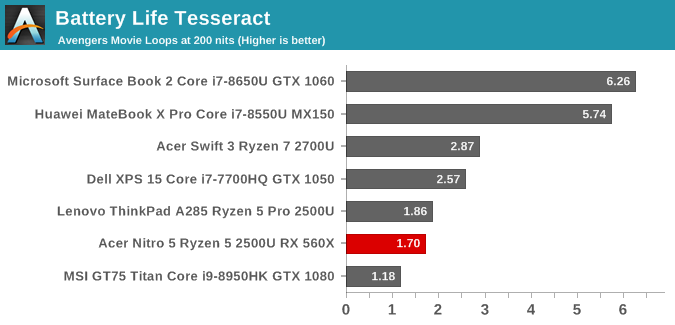 One other area AMD needs to work on is their power usage of their media block. This is generally a test that can offload the work to fixed function hardware, allowing the processor to sleep, but as we've seen on other Ryzen systems, the movie playback test somehow results in even worse battery life than the Web test.
Normalized Results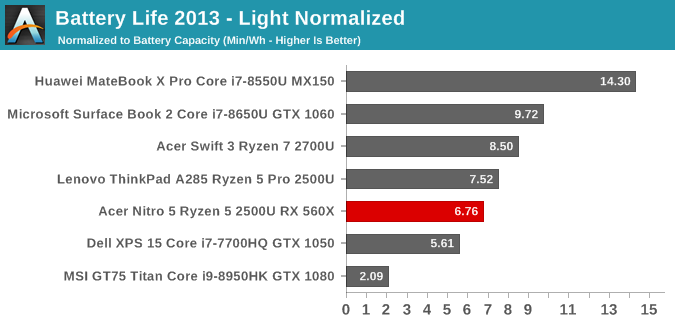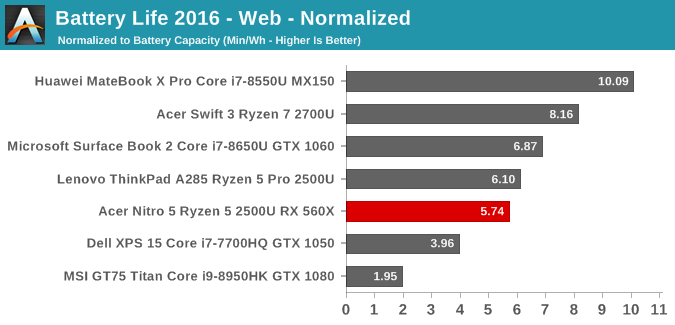 By removing the battery capacity from the equation, we can see how efficient each device is. It is more or less in-range with other Ryzen systems, which is where you'd expect.
Battery Conclusion
Ryzen needs work in this area more than any other, and hopefully the 2nd generation addresses these shortcomings. Luckily the battery life is probably not that big of a concern for most buyers of a gaming laptop, so despite being less than amazing, it is still acceptable for this type of system.
Charge Time
Acer ships the Nitro 5 with a 135-Watt AC adapter. However, they don't dedicate much of the power to battery charging.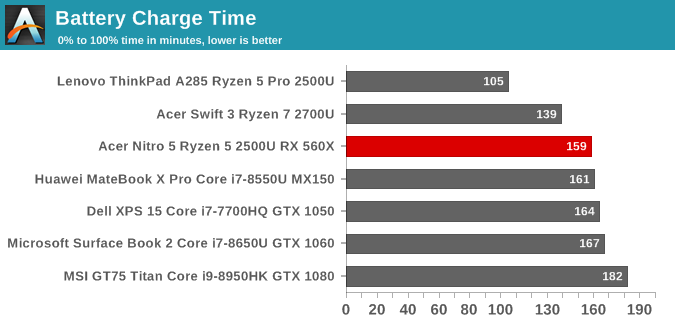 The laptop is fairly average in terms of charge time, even with the large power source, but since it'll likely spend most of its life plugged into the wall, this isn't a huge concern either.