Gaming Performance
Unfortunately in Linux, we are restricted to only a few native games. Utilities such as WineX are bringing more and more games closer to the mainstream adoption that Windows already cherishes. However, we could spend an entire review alone looking solely at Wine based gaming, so we will save that for the future. In the meantime, we can take a look at the two native Linux games with which everyone should be familiar by now.
For 64-bit Fedora Core 2, we were not able to install NVIDIA's graphics driver with the default kernel. Thus, their 64-bit tests must be omitted from the benchmark.
Wolfenstein: Enemy Territory is a free, stable, native game for Linux as well as a cornerstone of our Windows benchmark. Unfortunately, there is only a 32-bit version of the game, so we must settle with 32-bit performance benchmarks, even on our 64-bit platforms. Resolutions were set to 1280x1024 with default configurations. The timedemo that we are using can be downloaded
here
.
Frames per Second, more are better.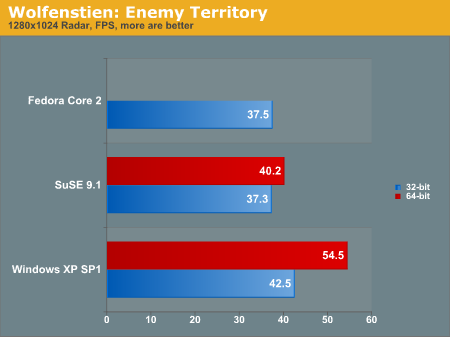 The significant differences in frame rates have to do more likely with optimizations of NVIDIA drivers rather than optimizations of NVIDIA hardware. Although iD and NVIDIA has put forth valiant efforts into making Linux competitive with Windows, the benchmark above hints that either (or both?) companies run extremely inefficient code for Linux.
The pride and joy of any Linux benchmark are the native 64-bit and 32-bit versions of Unreal Tournament. The timedemo (1280x1024) that we are using can be downloaded
here
.
Unreal Tournament 2004 32-bit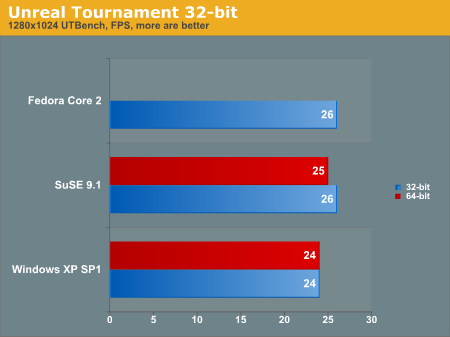 You may notice a lack of 64-bit operating system scores for UT2K4. We were particularly unnerved how difficult it was to get the 64-bit UT2K4 demo working in an out-of-the-box configuration. Both Fedora and SuSE required severe kernel hackings to get the NVIDIA 64-bit drivers working, which was, unfortunately, not the point of this analysis. Keep in mind, we have been seeing the UT2K3 demo run on 64-bit hardware on 64-bit operating systems almost as far back as the Opteron launch. We suspect that the number of users who actually play UT2K4 with 64-bit configurations are fairly selective.