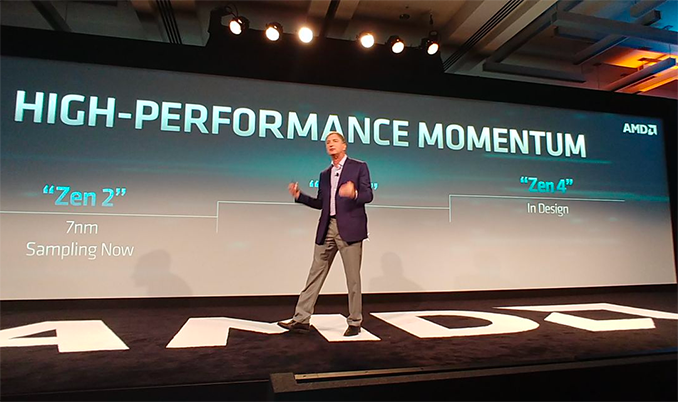 At its Next Horizon event in San Francisco, AMD announced the fourth iteration of its Zen microarchitecture. The Zen 4 is currently in development, so the company does not share many details about it right now.
Right now, the company is sampling its codenamed Rome CPUs based on Zen 2 microarchitecture and made using TSMC's first-generation 7 nm manufacturing technology (N7). After that, AMD plans to release a processor based on its Zen 3 architecture and these chips will be made using TSMC's N7+ fabrication process that will take advantage of EUV lithography. Since Zen 4 microarchitecture is still in design phase, chances are that processors on its base will be made using a more advanced node, so think 5 nm, but keep in mind that any guesses today are speculations at best.
At its event AMD implied that the first CPUs based on its Zen 3 microarchitecture will ship in 2020, so it is natural to expect Zen 4 to reach actual products in 2021 or later. As for what to expect from the new microarchitecture, the company naturally promised higher performance and performance per watt when compared to prior generations.
Previously AMD has only discussed Zen 2 and Zen 3 microarchitectures, yet it is not surprising that the company will keep evolving its successful design in the coming years.
This is a breaking news. We are updating the news story with more details.
Related Reading:
Source: AMD