DFI LANParty 925X-T2 and Asus P5AD2 Premium
Intel 915 chipset boards were everywhere at Computex, but the 925X - the Enthusiast version with support for DDR2 only - was harder to spot at Computex than a day without thunderstorms in Taiwan. Two of the most interesting 925X boards to target the high-end were at DFI and Asus.
DFI has won over many hard-core Enthusiasts with their LANParty series and the new 925X-T2 is a Socket T version for the LANParty Series. This LANParty finally adds Firewire to the package, along with Dual Gigabit Ethernet and the exciting 8-channel Karajan Audio.
Among the major manufacturers, Asus is always watched for their high-end boards that always attract the attention of hard-core enthusiasts. Asus will not likely disappoint with their new p5AD2 Premium. The feature set includes just about everything that you could ever think of for a desktop PC, like
both
Firewire 1394B and 1394A, theater-quality 8-channel audio at 192Khz/24bit, Dolby Digital Live, dual gigabit LAN, built-in WiFi-G for a high-speed wireless network, and triple RAID that even can support RAID 5.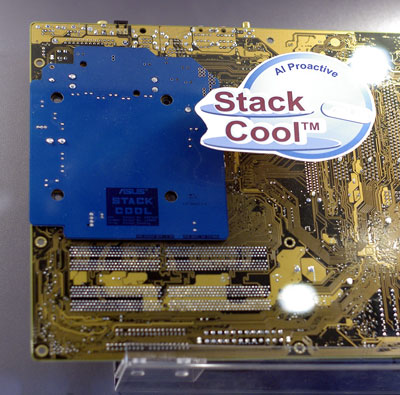 Asus has also addressed many of the heat issues with the newest Prescott chips very aggressively, including a new CPU cooling device called "Stack Cool" on the back side of the motherboard.
If you look closely at the Asus and DFI boards, you will see 4-phase power regulation, which we saw on almost all of the new Socket 775 boards. With over 100 watts needed for the new Prescotts, 4-phase power appears a must to deliver stable power to the CPU.